IFA Seminar | Updates for Care Seminar
Due to popular demand, our Independent Financial Advisor Seminars are back for 2017. This time we are in Northampton at the beautiful Collingtree Park Golf Club.
Debbie Anderson, Head of Health and Community Care Team and Louise Courtney, Solicitor will be discussing issues including financial issues relating to care, the Mental Capacity Act 2005, best interests and deprivation of assets.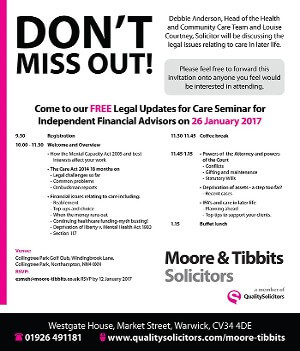 If you would like to book a place on this seminar, please contact our Marketing Co-Ordinator, Esme Hill on 01926 491181 or email: esmeh@moore-tibbits.co.uk.