A lot of firms make a lot of promises about how well they'll deal with your claim.
As a local law firm with decades of experience in dealing with personal injury, we can of course match those promises; but we're pretty sure that we're different from most of the firms you've looked at and may have dealt with already.
Well, for a start, one difference is that we'll we take your personal injury personally. Very personally.
You're not, and you will never be, just a file number.
You're a name, a person. You're not just an accident date and an injury – to us, you're not just someone who has suffered an injury.
Your claim will be dealt with by a solicitor who will take the time to know you, your injuries and claim and use all their efforts to get you the best possible result.
Since the 1980s we've helped thousands of people recover many thousands of pounds in damages in genuine accident claims due to another person's negligence or failure to put proper safeguards in place. Most of these people we know personally now – don't just take our word for that, read it for yourself in our recent testimonials.
We won't merely tell you about the personal injury accident process, we'll guide you and take you through it to make sure you understand it in as much or as little detail as you're comfortable with.
No waffle, no empty promises, and no hiding behind fancy words and legal expressions.
We'll make sure that your personal injury claim is settled on the best possible terms for you and as quickly as possible for you.
We deal with all kinds of accident claims be they from an accident at work, in a public place, on the roadway or footway, in your car or wherever and however.
We're happy to talk to you without charge to assess your case, the prospects of success and how to move it forward. We can arrange home visits and hospital visits – we'll even bring the grapes! We also deal with clinical negligence claims.
Our clients don't pay a penny, not even from their compensation award
It's well worth repeating...we really are 'no win, no fee'.
Some of the other firms you may have looked at already may not have made it clear to you (please do check) that if they do win the case they will take a percentage of your damages, sometimes up to 25%.
So, let's be clear about this - we won't do that. We leave that to the mass market, and their faceless lawyers.
If you'd prefer the personal touch to your personal injury accident claim, call and ask to speak to Sean Hudson on 01670 368738 and he'll personally deal with your claim from start to finish.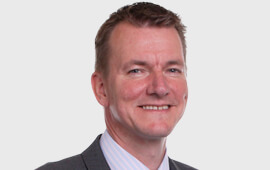 Sean Hudson
Partner