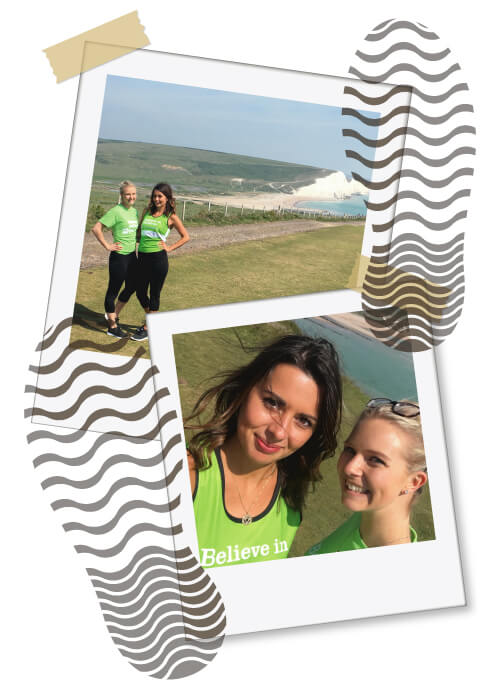 On Saturday 26th August 2017 Ria Emin & Sarah Parker will be taking part in this year's South Coast Challenge, raising money for the children's charity Barnardo's.
The route goes through stunning scenery, with the girls starting their journey at Princes Park Eastbourne, over the picturesque downs and in to Alfriston for a quick pit stop and refuel. They will then start the decline from Bank House Farm Alfriston ,along the coast to Hove Lawns.
The overall journey will clock up a staggering 54km, that's a whopping 33 miles in one day!!
To offer your support please visit their Just Giving Page
https://www.justgiving.com/fundraising/RiaandSarah
Diary Entry 1
We will be completing the 50km trek, representing QualitySolicitors Barwells, in aid of Barnardo's as part of The Bucket List Challenge! Please show us your support by sponsoring us, this won't be an easy distance or route to cover! Fingers crossed the sun will shine for us on the 26th August!
With a mixture of fear and excitement, we plan on completing the South Coast Challenge in one day. That's walking a total of 34miles! Although we're keen to achieve this goal, we've never walked close to this distance in our lives so we're going to have to make some changes in readiness for this challenge.
We plan on adopting a healthy lifestyle with regular walks over the South Downs between now and August. But on a selfish level, we want to see if we can achieve this distance and feel proud.
So why are we doing this!?
Barnardo's and QualitySolicitors Barwells have been working closely in partnership since 2010, predominantly consisting of a free Will scheme which has enabled us to see the impact Barnardo's has on children, young people & their families in the area and nationally.
During last year Barnardo's supported over 248,000 children and their families through 996 community based projects! Barnardo's may be 150 years old but they remain true to their founder's mission and vision and believe that every child should have someone to turn to.
There are so many vulnerable children in the UK that haven't had such a fortunate childhood as we have. Barnardo's fight for the most vulnerable children in society to ensure their needs are met and voices are heard. Please give as much or a little as you can to support Barnardo's. Visit our Just Giving page to make a secure donation.
We'll keep you updated with our training goes over the next few months.
Love Sarah & Ria