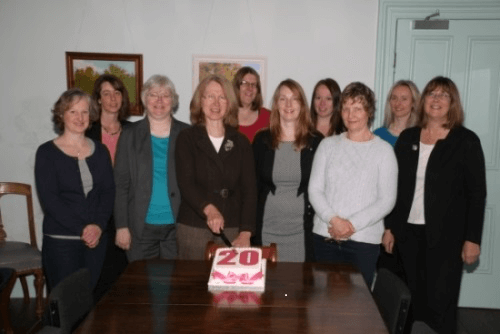 On 1st May QualitySolicitors Charlesworth Nicholl celebrated their 20th year in business at 31 High Street Crediton with a glass of bubbly and a birthday cake. Partner, Chris Nicholl said "I am delighted to celebrate the 20th anniversary of the business. My thanks go to the dedicated team here, to our clients, old and new and to the businesses and people of Crediton for their custom and loyal support. We should also like to welcome our newest member of staff, legal secretary and receptionist, Karen who joined us on our anniversary."
There has been a legal practice at Number 31 for over 100 years.
Bill Matten who worked in the office for 50 years starting in 1942 recalls that before the war letters were typed on an old fashioned Underwood typewriter. Carbon was not used and one of his jobs was to take a copy of each letter in a letter book by using copy cloths which had to be dampened, put into the book on an oil sheet, then dried and then the letter placed onto the reverse side of the page of the letter book on which it was to be copied and the whole lot put into a Press. If the wetting and drying process was not done exactly right, the letters ended up very badly smudged and the whole day's work had to be retyped. Thankfully those days are gone and QualitySolicitors Charlesworth Nicholl are now able to offer a speedy and cost efficient service using up to date technology.
The firm now has a team of lawyers available. Chris Nicholl and Natalie Cutting deal with the family work for the practice, including dealing with divorce, separation, contact issues and child care. Mary Nation and Sarah Russell deal with matters such as moving home, agricultural and commercial conveyancing. Mary also deals with leases and settlement agreements for employees. Debra Bulcraig joined us this year and is a specialist in dealing with wills, inheritances, probate matters and powers of attorney.
QualitySolicitors Charlesworth Nicholl are dedicated to providing top quality legal advice in a professional yet friendly and approachable manner. Customers are welcome to phone, email or pop in off the street for a consultation with a member of the legal team.
Photo by Alan Quick, Crediton Courier.