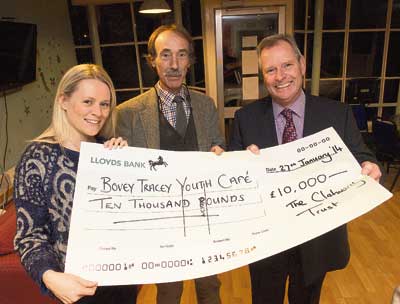 BOVEY TRACEY'S only youth club has been thrown a £10,000 lifeline to carry on its good work in the town for at least another 12 months… thanks to a recluse from Exmouth who died four years ago.
The 100-strong Youth Cafe at Pixie Corner, Fore Street, is cock-a-hoop after securing vital funding from Exeter-based solicitors firm Dunn and Baker, which administers the Clatworthy Trust.
The trust – set up to dispose of the estate of Henry Clatworthy to charitable causes – came up trumps just before Christmas when it confirmed that the hard-up club's bid for funds had hit the right mark.
The reclusive Mr Clatworthy from Exmouth died in the resort in 2010.
At least half a dozen other deserving charities in the Teignbridge area have benefited from his generosity.
An on Monday the latest cheque form the estate was duly handed over to grateful staff at the café by Dunn & Baker lawyers Nick Penwell and George Bowser.
A delighted admin manager Mariann Johnson declared: 'This is just amazing because we are always struggling to survive.'
The crucial cash comes just a few weeks after the cafe was presented with £1,000 from the Devon Craft Guild as a thank you to the town for hosting its successful annual craft fair.
That sum was considered a major boost to funds before ten times the amount came along afterwards.
'It means we can plan for the year ahead and keep ourselves open. Last year we were struggling a lot as we cut into our reserves,' Ms Johnson revealed.
She thanks the trust for its faith in the youth venture which she added, had also received much –appreciated support from Bovey Tracey Town Council and local police.
'We are very lucky to have this help. It's just fantastic,' she said.
The café has more than 100 local youths on its books whose ages range from ten to nineteen.
'The Craft Guild cheque and this one from the trust are a massive lifeline for us. We are so grateful,' said Mrs Johnson.
Article By Paul James of the Mid Devon Advertiser
Further articles about the Henry Clatworthy Trust can be found following these links:
http://www.exeterexpressandecho.co.uk/Pics-come-Family-amazed-Exmouth-8216-recluse-8217/story-20506900-detail/story.html