QualitySolicitors Dunn & Baker are proudly taking part in the South West Legal Walk 2017 in order to raise money and awareness for the South West Legal Support Trust (SWLST). SWLST award grants to charities to ensure vulnerable people can access any legal help and support they may need.
To find out more about the charity, click here.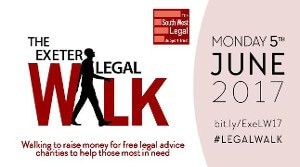 Our team, made up of Sarah Randall, Steph Abbott, Megan Rees, Kathy Trist, Rebekah Baty, Sabrina Richardson, Tracey Morten, Steven Came, Alison Whittingham, Gemma Prouse, Laura Rowe and Helen Parsons from QualitySolicitors Dunn & Baker are participating in the 10km sponsored walk around the city on 5 June 2017.
If you would like to donate, please follow this link: https://mydonate.bt.com/fundraisers/qualitysolicitorsdunnbake