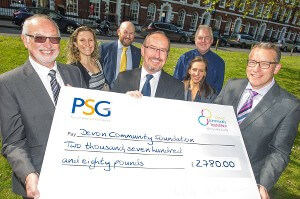 Members of Exeter's legal community gathered in Southernhay on Friday 12th May, for a charity cheque presentation, after raising over £2,500 for the creation of a permanent cultural tribute to the buildings that perished in last year's Cathedral Yard fire.
Property Search Group came up with the idea of bringing together Exeter's law firms to raise money for the Historic Exeter Fire Appeal, by commissioning and auctioning a painting of a day in the life of Southernhay, traditionally the city's legal hub. The unique and quirky painting, created by Devon artist and illustrator Sara Nunan, features the city's solicitors and barristers enjoying their hobbies and interests from surfing to singing and rugby to reading.
The painting was auctioned at the Mercure Exeter Southgate at the end of March, by TV's Homes under the Hammer auctioneer Scott Gray, and won by 24-year-old Tom Backhouse, of TerraFirma, whose father Inspector Mark Backhouse was involved in the emergency response to the blaze.
The original painting was sold for £310, with an accompanying painting by Sara of Cathedral Yard selling for £320. The funds raised from the auction were combined with donations from the 13 law firms, for involvement in the painting, and the sale of limited edition prints, giving a final total of £2,780.
The Fire Appeal, administrated by Devon Community Foundation, has already raised over £20,000 and given grants to staff and small businesses affected by the fire. With the Fire Fund now coming to a close, the money raised by the Southernhay Life campaign will go towards the creation of a permanent cultural tribute, after a public vote run by the Foundation.
Scott Walker, of Devon Community Foundation, said: "The Southernhay Life campaign was a very fitting way to draw to a close the Exeter Historic Fire Appeal.
""I would like to thank PSG, the Exeter Legal community and the winning auction bidders for their generosity. The money raised will enable us to carry out the community's wishes, to use the remaining money to create a permanent cultural tribute that recognises the historical importance of the buildings lost.
"The next step, towards the realisation of a cultural tribute, will be for Devon Community Foundation to commission an artist."
The participating law firms, who donated funds are, Browne Jacobson, Crosse and Crosse, Dunn and Baker, Everys, Foot Anstey, Ford Simey, Gilbert Stephens, Kitsons, Magdalen Chambers, Michelmores, Morgan and Pope, Stephens Scown and WBW Solicitors.
Andy Towers of PSG, which provides conveyancing search services to legal firms across the region, said: "We're thrilled that so many of Exeter's legal firms decided to come together to support the campaign and thank them for their generous donations. We are also grateful to Devon and Somerset Law Society for their support of the campaign.
"We look forward to the completion of the cultural tribute, which we hope will be enjoyed by Exeter residents and visitors for many years to come."
About Southernhay Life
The representatives of Exeter's legal community, featured in this painting, are as follows: Andrew Maynard of Michelmores, David Williams of Ford Simey, James Griffin of Everys, Cameron Caverhill of Kitsons, Nick Penwell of Dunn and Baker, Richard Stevinson of Crosse and Crosse, Terry Bastyan of Gilbert Stevens, David Charlesworth of WBW, Joanne Pruden of Browne Jacobson, Catherine Matthews of Stephens Scown, Karen Bates of Foot Anstey, Charlotte McGregor of Morgan & Pope, Michael Berkley and Christopher Naish of Magdalen Chambers and Nick Randall of Stephens Scown.
Devon Community Foundation
Devon Community Foundation is Devon's local charity for local people, supporting hundreds of voluntary and community groups on the frontline helping local people in need and building thriving communities for everyone. As the leading route for philanthropic giving in Devon, DCF has distributed £10,617,349 in grants to 3,621 projects across Devon, Plymouth and Torbay. As one of 46 Community Foundations in the UK, Devon Community Foundation is a catalyst for change, funding projects which are making a big difference to the lives of vulnerable local people. The Foundation provides a flexible and personal way for individuals and organisations to invest in local projects, helping to ensure Devon's communities thrive. For more information visit www.devoncf.com.
Devon and Somerset Law Society
DASLS aims to be the leading local law society in England and Wales. It encourages and supports innovation, integrity and leadership in the legal profession and provides a strong focus for lawyers in the region. www.dasls.com
Sara Nunan, the artist
Sara is an illustrator and graphic designer based in Devon, having moved from London in 2011. Sara has worked for various publishing companies such as Dorling Kindersley and Harper Collins as art editor. As a freelance artist Sara predominantly draw maps and scenes of cities, towns, places and Devon villages. Sara's work has also featured on two Devon Life covers.
Photo caption: (L-R) Martin Gill (PSG), Catherine Mathews (Stephens Scown), Tony Steiner (Devon and Somerset Law Society), Andy Towers (PSG), David Charlesworth (WBW Solicitors), Jo Pruden (Browne Jacobson) and Scott Walker (Devon Community Foundation).