Dunn and Baker were delighted to be invited to attend a Question & Answer session with A-level Law students from Exeter College.
Trainee Solicitors Harry Coombe and Chris Willows (pictured centre left and centre right respectively) met with students on 14th February 2020.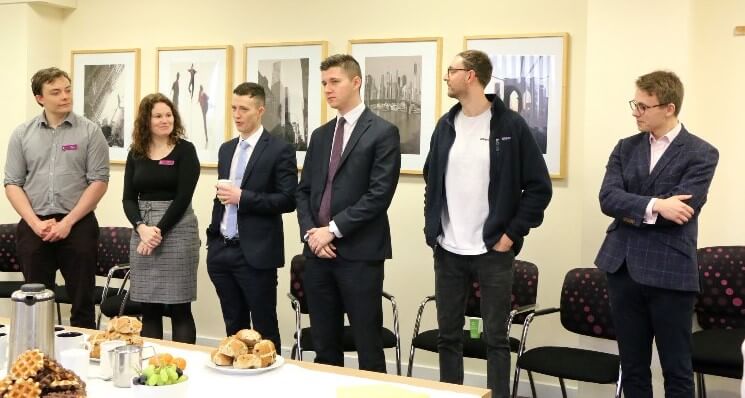 The morning involved a Q&A with students before a longer period of individual conversations between students and two of our Trainees, who attended along with a mixture of Trainees and Solicitors from another firm. It provided students with an opportunity to find out the answers to any burning questions, first hand from people working in the legal profession.
When asked his thoughts on how the morning went, Harry said "it was encouraging to see so many students intent on pursuing a career in Law. The event was well organised and I would like to extend my thanks to Exeter College for the invite".
Chris said "it was a pleasure to spend the morning with students who were eager to engage and clearly enthusiastic about their subject. All the students whom Harry and I spoke with asked a variety of questions about both a career in Law and also the challenges of a Law degree and the Legal Practice Course. I wish all the students the best of luck with their upcoming exams and their future careers".
We would like to thank Exeter College and their staff and pupils for the warm welcome and wish the students all the best for the future.
If you are interested in a career in Law, see our job vacancies page for more information on roles currently available here at Dunn & Baker Solicitors.