Thanks to the generous sponsorship provided by Dunn & Baker and other local companies, the 2nd Clyst Hydon Huff held on 21st May 2017 was a huge success. The event is run by the Clyst Hydon School Association (CHSA) to raise funds that are used to help enhance the children's experiences through providing additional resources (eg. playground equipment, library books) and subsidising funding trips such as the annual theatre trip. This year's Huff has raised in the region of £2,300 for the CHSA which is a tremendous amount. Thank you so much for helping us raise these funds. The Huff will undoubtedly be a special memory for many of the participating school children, and will be talked about by adult runners as they discuss the route, terrain and their race times with others who spot their 'Huff t-shirt' out training and at other running events.
The event has quickly grown into a popular race – out of the 150 places available for the 10k race, there were only 3 places remaining on the morning of the race, and these were quickly snapped up. We had over 100 runners in the 2k race, with children from 18 different primary schools taking part. Sponsorship enabled us to provide 10k finishers with a very smart memento t-shirt – illustrated below.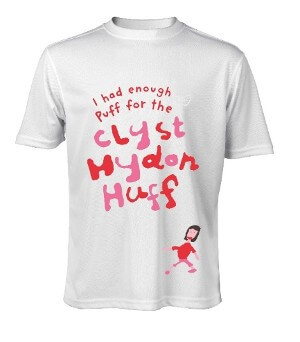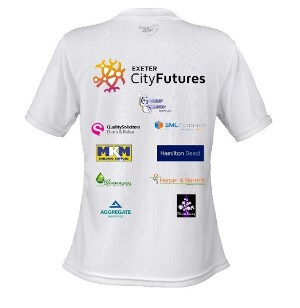 The day started with a pre-race warm up led by Exeter Chiefs player and England squad member – Jack Maunder before the 10k competitors set off.
10k run: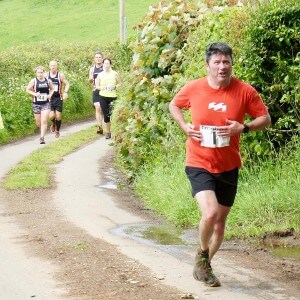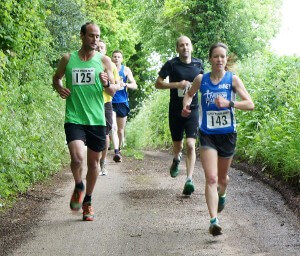 10k competitors (spot the Dunn & Baker staff member!)
The 10k multi-terrain route is a tough, hilly route and persistent rain the day before meant that runners had to contend with plenty of mud on the hilliest section of the course. The volunteers and marshals received excellent feedback from runners, some of which is copied below:
Thank you to all the fabulous, encouraging marshals. That was TOUGH for a first 10K run!!! I would just like to say a big thank you for the lovely Huff on Sunday.
4 members of my family did it – thank you and well done for a brilliant race. Both my children and me in the 10 K thought it was great! We all enjoyed it enormously.
The atmosphere was great and all the volunteers and marshals really friendly and helpful. If it happens next year, we will be back!
Just a brief note to say thank you and well done. I have been running and competing since 1984 but old age and injury have crept up on me…..hence the Huff was my first competitive run beyond 5k for 4 years. Very impressed. A really good local event, well organised and marshalled and so friendly and inclusive. Great cakes!! The course is far tougher than I imagined thanks to the mud through Ashclyst, but all part of the fun and the challenge. Well done to everyone involved. So pleased I stepped out of my comfort zone.
In the 10k race, there was an excellent turnout from Clyst Hydon village, as well as runners from across the county and further afield, with representatives from 17 running clubs. Well done to all who took part – there were 134 finishers.
2k run: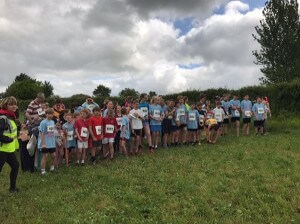 2k competitors congregate at the village hall 2k competitors at the start
Plans are already being made for the 2018 Clyst Hydon Huff!
Thank you to Dunn & Baker for their generous support of the 2017 Clyst Hydon Huff.