The start of a new year is often filled with enthusiasm and exciting business plans and here at QualitySolicitors Dunn & Baker, we have plenty to celebrate with multiple promotions across the firm, which took effect at the beginning of the month.
Our first congratulations go to Sarah Finn, Associate Solicitor who has agreed to join the firm's Partnership with effect from 1st January 2018.
Sarah has over 28 years' experience in residential property matters including: sales and purchases (freehold, leasehold, registered and unregistered property), remortgages, transfers of equity and other land transactions.
Originally from East Anglia, Sarah relocated to Devon in 2013, joining the firm in 2015 as a Residential Conveyancer and Branch Manager in Newton Abbot. She says that dealing with people and helping them reach the right results gives her job satisfaction. Sarah is dedicated to the development and growth of the Newton Abbot office.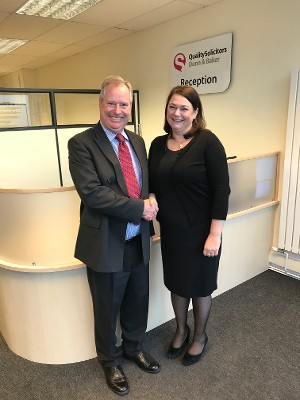 We also applaud Kathy Trist, former Associate Solictor who took on the role of Head of General Civil Litigation earlier this month.
Kathy qualified as an Ilex Fellow in 2001 and joined QualitySolicitors Dunn & Baker in September 2004 as part of the litigation team. Since qualifying as a Solicitor, Kathy has also qualified as a Civil Mediator and thrives in pressurised situations, helping people find solutions to their problems.
Kathy is also Chair of the Devon and Somerset Law Society Mediation Sub-Committee which sees her promoting mediation through Continued Professional Development (CPD) talks and representation at various events.
Lastly, our praises go to Alison Whittingham, who has just been made Associate Solicitor after working for the firm for just over two years.
Alison originally qualified as a Solicitor in London, with a major city firm which then led to working in the West End in entertainment law, negotiating recording agreements and advising on record companies on copyright law.
Alison is really proud to have helped local food suppliers win a contract to run a canteen at Hinkley Point C – the biggest construction project in Europe, and is most looking forward to helping grow the Commercial Department at QualitySolicitors Dunn & Baker.
Alison is passionate about meeting new people and developing business relationships and says the most rewarding part of her job is solving problems for her clients.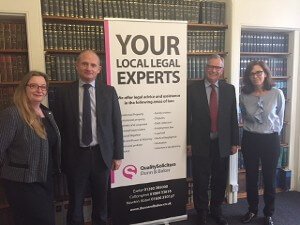 "Congratulations to Sarah, Kathy and Alison, whose hard work and influence in their relevant departments has paid off. We are very much looking forward to continuing our support to these excellent members of staff on their journey at QualitySolicitors Dunn & Baker." Simon Cutting, Managing Partner.