Why Make a Will?
A Will protects your loved ones at the worst time by clearly setting out how you would like your estate – everything you own – to be shared out. This reduces the likelihood of disputes, particularly if your Will has been made through an experienced private client solicitor.
Making a Will speeds up the probate process and makes it less stressful for your loved ones. Probate is the legal process of managing the estate of a person who has died. When a person dies intestate (without making a Will) the courts decide how their estate will be shared out according to the rules of intestacy. Under these rules those who you may have wanted to inherit, such as step-children, may not receive anything.
It is particularly important to make a Will if you have children under 18. You can specify who will look after them if they lose both parents rather than leaving the decision to the local authority. You can also state how your children will be provided for financially and when they will receive inheritance.
Depending upon your circumstances, you may be able to reduce the Inheritance Tax bill that your loved ones have to pay. Your solicitor will be able to advise you about how you can protect your assets.
Is it easy to make a Will during the pandemic?
All Wills must be witnessed by at least two people, but during the coronavirus pandemic Wills can be witnessed remotely via live video link. These reforms are going to remain in place until January 2022.
At J A Hughes our private client solicitors continue to advise clients about Wills and probate over the telephone, through video calling, chat platforms and email. Face-to-face meetings are not necessary to create Wills and our solicitors are always there to help and answer any questions. We are still offering socially distanced face to face meetings though, should you so wish.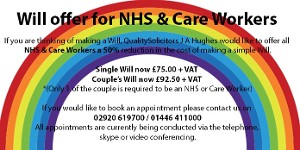 Should I review an existing Will?
When life changing events occur such as births, deaths, divorce and marriage your situation may change, but it is sensible to keep your Will under regular review in any circumstances. Please note that marriage revokes a will in its entirety.
[1] The Gazette official public record, Will enquiries in the UK have increased by 75%, https://www.thegazette.co.uk/wills-and-probate/content/103539
J A Hughes private client solicitors can review your Will with you to make sure it always reflects your current wishes.
50% discount Will offer for NHS and care workers
We are offering a 50% reduction in the cost of making a simple Will for all NHS and care workers. If you are a couple, only one of you is required to be an NHS or care worker to benefit from the discount.
Single Will now £75.00 + VAT
Couple's Will now £92.50 + VAT
Our experienced private client solicitors can write a detailed, clearly worded Will for you, giving you the peace of mind that your wishes will be followed.
To find out more contact us on 02920 619700/01446 411000.