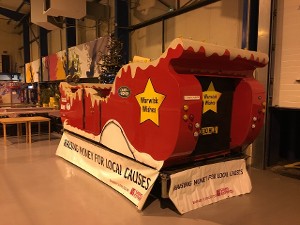 Warwick Wishes is a charity which raises money for worthwhile causes in and around Warwick with Eveyln's Gift, Warwickshire Blind Association, Safeline and Myton Hospice being supported recently.
On Saturday (17th), Santa and his sleigh will be jingling along to Sainsbury's at Leamington Shires from 9.30am to 4pm and then onto Myton Road and Bridge End in the evening. After a break and a mince pie, he will then be around Warwick Gates on Wednesday evening with all proceeds going to Myton Hospice.
Finally, on Christmas Eve the sleigh will be at Sainbury's in Warwick from 9am to 1pm so come along and support this fabulous charity while enjoying the magic of Christmas.