James has an extensive level of expertise in all areas of commercial property including; land development and financing, sales, purchases, equity transfers and leases. He is also able to advise on landlord & tenant issues (tenancy agreements and service of notices) as well as a vast range of other commercial property transactions. He really does have everything covered when it comes to Commercial Property!
Did you know?... James studied his LLB degree at Exeter University before going on to Nottingham Law School to complete his LPC.
What our clients say…
"James has helped us navigate a number of property purchases and remortgages over the years. He has done an outstanding job and his personal engagement with us as clients has been exceptional. Would strongly recommend James and the firm" M&M Wright
"James provided an excellent service, we could not have asked for more. His communication and knowledge of the service that we were requesting was outstanding. I would have no hesitation in recommending James to anyone" L. Leach
"Thanks for your help James. Such a relief to have a competent and efficient solicitor on the case" Corinne
"Cannot speak highly enough of the excellent service and peace of mind provided by James Williams" J. Doman
Quick Fire Questions…
If you weren't a Solicitor, what would you be doing? Professional footballer – turned down a contract with Coventry City and had trials (which I couldn't go to because of a knee injury at Uni) for Yeovil Town.
When you were younger, what was your dream job? As painful as it is, I always wanted to be a lawyer.
Favourite part of doing your job? Working with clients and the satisfaction and gratitude they show when you have given them your all.
What do you enjoy doing outside of work? Anything sporty whether it be playing or spectating.
If you need any help or legal advice when it comes to Commercial Property, speak to James on 01926 491181 or email: jamesw@moore-tibbits.co.uk.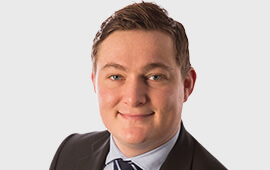 James Williams | Director & Commercial Property Solicitor