This spectacular, local event organised by The Warwick Lions and Warwick Rotary is a great chance for families to enjoy Bonfire Night right on their doorstep. The theme for 2019 is 'Space' with the firework show being set to the music of 'Star Wars' – which means all children under the age of 15 dressed as Astronauts and Aliens will have free entry!
Gates open at 16:30 with two firework displays taking place throughout the evening – a small one at around 18:00, followed by the main display at round 18:40.
There is also free parking, bars open, variety of hot food stalls, entertainment and a mini fairground during the evening. Alternatively, you can book a 2-course buffet meal along with the show (limited spaces available).
Organisers are hoping to exceed last year's crowds which raised over £15,000 for local charities and good causes.
To find out more about the event click here: https://www.warwicktownbonfire.org.uk/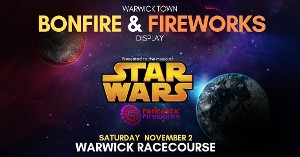 Tickets are available from:
Warwick Tourist Information Centre
Leamington Tourist Information Centre
Warwick Post Office
Woodloes Post Office
Chase Meadow Community Cenre
Claridges of Warwick
Mellors
Cabin News
Torry's
Warwick Vacuum Sop
Alternatively, tickets can be purchased online using the following link: https://www.thejockeyclub.co.uk/warwick/events-tickets/warwick-town-bonfire/tickets/#tab=day1