As employees faced uncertainty with their job roles and future, employers and business owners had the challenge of keeping up to date with the ongoing changes to legislation and government updates. For many, Lisa was able to be the calm in the storm, offering legal advice and highlighting the best route forwards to see life after lockdown.
Previous experience:
Having previously worked at Warwickshire Employment Rights Service for over 9 years, Lisa has a wealth of experience dealing with all aspects of Employment Law for both employers and employees. Lisa has a Business Management degree from Aston University and a Law degree from the College of Law in Birmingham and is CIPD (Chartered Institute of Personnel and Development)* qualified.
In May 2018 Lisa became a Chartered Legal Executive and she qualified as a Solicitor in January 2019.With these qualifications and skills, Lisa has exceptional knowledge and understanding of issues relating to employment law for both the employee and employer and she is a member of the Employment Lawyer's Association.
Lisa also undertakes employment law training sessions for various organisations, including Bedworth Rugby and Nuneaton Citizens Advice Bureau.
Did you know? Lisa's wealth of industry experience has included litigating against major employers in the region and some global brands.
What our clients say…
"Lisa was fantastic not only on dealing with the legal side of things and making sure I received the correct entitlements but also, Lisa was very easy to talk to and was very understanding of my thought process, boosting confidence for looking for new employment after this was sorted. Thanks to Lisa having such a caring aspect She boosted my confidence enough that I went straight into new employment. Thank you, Lisa" N. Maguire

"I asked Lisa to help me understand the contract of employment for a new job. Time was of the essence as I didn't want to delay signing it. I was amazed by how quickly Lisa agreed to help, reviewed the contract and then discussed her findings with me. Absolutely top-notch service. Thanks very much" R. Gemmell
Quick fire questions;
If you weren't a solicitor, what would you be doing? I would probably be utilising my business management degree, working in marketing as this is something I always enjoyed. If I had my time again and I could retrain I would probably go into interior or garden design as this is something I enjoy doing in my spare time.
When you were younger, what was your dream job? My dream job when I was younger was to work in the travel industry, probably as a Pilot. I grew up close to Gatwick Airport and spent a lot of time travelling so I think this really influenced me at the time. However, when I realised that you didn't get to spend much time in each destination and it was not like a holiday, it soon put me off.
Favourite part of doing your job? My favourite part of my job is being able to help clients to understand a complex area of law and to help them to achieve a positive outcome in what is usually a difficult and highly emotive situation. It is important to listen to what a client has been through, to consider what they are trying to achieve and using my knowledge of employment law to see if an outcome is achievable and realistic. Employment Law is fast paced and is constantly developing; it is important to consider everything a client has told you and I often find myself having to think outside of the box.
What do you enjoy doing outside of work? I enjoy travelling the world, experiencing different cultures and spending time catching up with friends and family. However, due to Covid most of these have not been possible and so I have been spending time decorating my house and landscaping the garden.
If you need help and advice in regards to any employment issues, speak to Lisa today for FREE initial advice. Just call 01926 491181 or email: LisaA@moore-tibbits.co.uk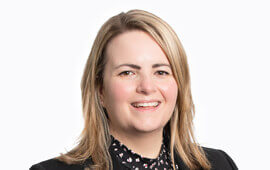 Lisa Aitken | Employment Law Solicitor
* CIPD is the main professional body to accredit and award professional human resources (HR) qualifications. The CIPD's qualifications are the recognised professional standard for HR and training specialists working across the UK's public, private and charity sectors.