New research from QualitySolicitors, a network of over 200 locations nationwide, highlights the confusion amongst people in Wales if they are asked to become an executor of a will.
It reveals that almost two fifths (39%) of over 40s, the likeliest age group to be appointed as an executor, don't know what the term probate means, 17% of which think it is the trial period you go through when starting a new job.
The survey shows that 28% have been appointed as an executor- the person in charge of sorting out an estate- yet 29% weren't aware of the extent of the roles before they accepted and 78% wouldn't have a clue where to start- the highest percentage in the UK.
This lack of knowledge is putting additional strain on those taking on the role of an executor for the first time. One quarter said they found the experience to be emotional and stressful, with 17% finding it incredibly time consuming.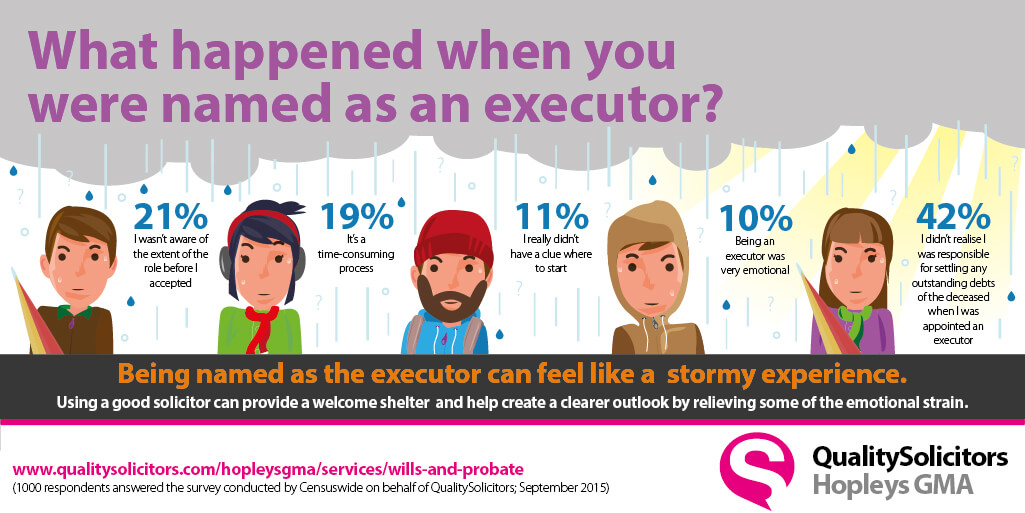 Andrew Holmes, Wills and acting Probate expert at QualitySolicitors Hopleys GMA comments:
"Being appointed as an executor of a will can be a daunting experience for a lay person. However, there are steps you can take, which alongside expert advice can help you ensure the best possible outcome. Some people may only find out that they were chosen to act as an executor for someone after their death, which can be very difficult.
At QualitySolicitors Hopleys GMA we offer a free initial consultation, so we would urge anyone who is unsure of anything to give us a call to find out how we can help you. We are able to deal with particular aspects of the administration of an estate, such as obtaining the grant of probate of administration, we can deal with everything from start to finish".
See our probate Top Tips here - /hopleysgma/law-guides/probate-top-tips