It is not necessarily our decision-making abilities, but our decision-making capacity that helps us to feel like ourselves and gives us a sense of direction over our lives. But what if we lost that capacity? And, perhaps even more concerning, what if we lost that capacity unexpectedly and suddenly? It's an unfortunate situation to think about, but appointing a Lasting Power of Attorney (LPA) can help ensure your voice and sense of choice isn't lost.
Making the decision to appoint an attorney is something we encourage clients of all ages to do; it helps avoid emotionally distressing situations for clients and their families should an accident or illness strike. A Lasting Power of Attorney is an important and flexible safeguard that only comes into effect as and when you need it – and will no longer apply if you regain capacity to make decisions for yourself or can make assisted decisions.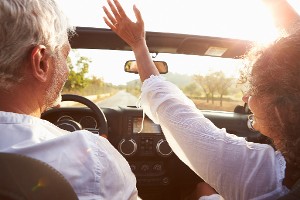 Who can be your Lasting Power of Attorney?
There are a number of decisions you'll need to make when choosing to appoint an LPA, and who you choose to act as your attorney is arguably one of the most important. There are some base requirements that must be met for a person to be able to legally act on your behalf. A person can act as your attorney if they:
Are 18 years of age or older
Have the mental capacity to make their own decisions
Are not bankrupt or have a debt relief order against them (applicable for Property and Financial Affairs Attorneys)
Imparting this level of trust to someone, who will have the legal authority to make decisions on your behalf if you were ever incapacitated, requires more consideration than a simple check-box, though. It's also important to consider the nature of your relationship with them and whether you believe they'll have your best interests at heart, how well you know them and how well they look after their own affairs, and of course whether they would have the time and would be willing to commit to acting as your attorney.
Given the gravitas of the role, it's not a decision that should be made lightly by either party. If you think the role would be better suited to two or more people, you can appoint more than one person to act as your attorney concurrently. If you're choosing this option, you'll need to specify whether each attorney can make decisions about your affairs on their own or whether they'll need to come to agreement and make a unanimous decision with the other attorney. We also encourage clients to consider appointing a replacement attorney while going through this process, just to ensure you're fully protected.
Why you should consider a replacement attorney
Just like anything in our lives, we don't always know what's around the corner. It's a statement that holds true for ourselves just as much as it does for others. This is why, when taking the time to appoint a trusted person to act as your Lasting Power of Attorney, we encourage you to have a back-up person who'd be willing to step into the role too.
The time and responsibility commitment it takes to act as an LPA means it is not a light duty role. Depending on a person's circumstances, it may be too much for them to take on board at the time it's needed. Attorneys who are not able or no longer want to fulfil the role can permanently step down (known as disclaiming their appointment), allowing another person to take over. If an attorney does decide to step down, they will not be able to act in that role for you again. It is not possible for an attorney to temporarily step aside (if they couldn't fulfil the duties while on holidays, for example), and so they would need to be certain of their decision. This is one of the reasons why it is a good idea to have a replacement attorney at the ready, but other life factors can impinge their ability to act as an LPA too.
Being mindful of how well your attorney manages their own affairs before appointing them is also important, particularly if they'll be looking after your property and finances on your behalf. You already know that a person who is bankrupt or has a debt relief order against their name cannot be appointed, and this stipulation holds true for anyone already appointed too. This means that, if at any time your Property and Financial Affairs Attorney is bankrupt or subject to a debt relief order, they will no longer be able to act for you.
Types of attorneys and what they do
Once you've decided who you'd like to appoint as your original and replacement attorneys, you'll need to figure out what sort of decisions you'd like them to be responsible for. There are two types of attorneys you can consider, which we'll go through below. Each attorney can either solely (or jointly if you've appointed more than one) make decisions for you on your behalf, or they can assist you to make decisions, based on your capacity.
Health and Welfare Attorney
A Health and Welfare Attorney can make decisions about things like:
Living arrangements
Medical care
Daily routine, such as diet and personal care
Activities that improve your quality of life, like holidays or support for you to visit family and friends
If you'd like your attorney to be able to make decisions about medical treatment for you, then you'll need to specifically grant them permission when making your appointment. You'll also have the opportunity to specify any particular medical treatments that you'd like to consent to or refuse.
Property and Financial Affairs Attorney
A Property and Financial Affairs Attorney can make decisions about things like:
Money management, including paying bills and liaising with HMRC about tax
Bank and building society accounts
Property and investments, including buying and selling
Pensions and benefits
Gifting assets (strict rules apply so it's advisable that attorneys seek legal advice first)
Generally, your appointed attorney or attorneys will be able to make decisions about all your financial assets, but there may be some situations where the additional input of the Court of Protection is needed as a safeguard to you. Examples when this may be the case is when decisions are needed about gifts, tax planning or the purchase of something from you as the donor at a below market rate. When acting in this role, attorneys must take great care to keep their personal finances completely separate from yours at all times.
Legally appointing a Lasting Power of Attorney
Giving someone the authority to act on your behalf is a testament of trust, but that doesn't mean it can be arranged over a tea and a handshake. In order for an appointment of an attorney to be legally valid, the appropriate paperwork and detail must be completed and given, and your appointment should be registered with the Office of the Public Guardian (OPG). If there are mistakes in the paperwork or objections then the OPG may reject the application. Having your paperwork drafted by an experienced solicitor will significantly reduce this risk and ensure all fortuities are planned for.
If you're thinking about safeguarding your future, speak to one of our experienced solicitors today. We're also pleased to offer competitive Will and LPA packages. To get in touch, give us a call at our Wrexham (01978 884 125) or Mold (01352 859 882) offices.