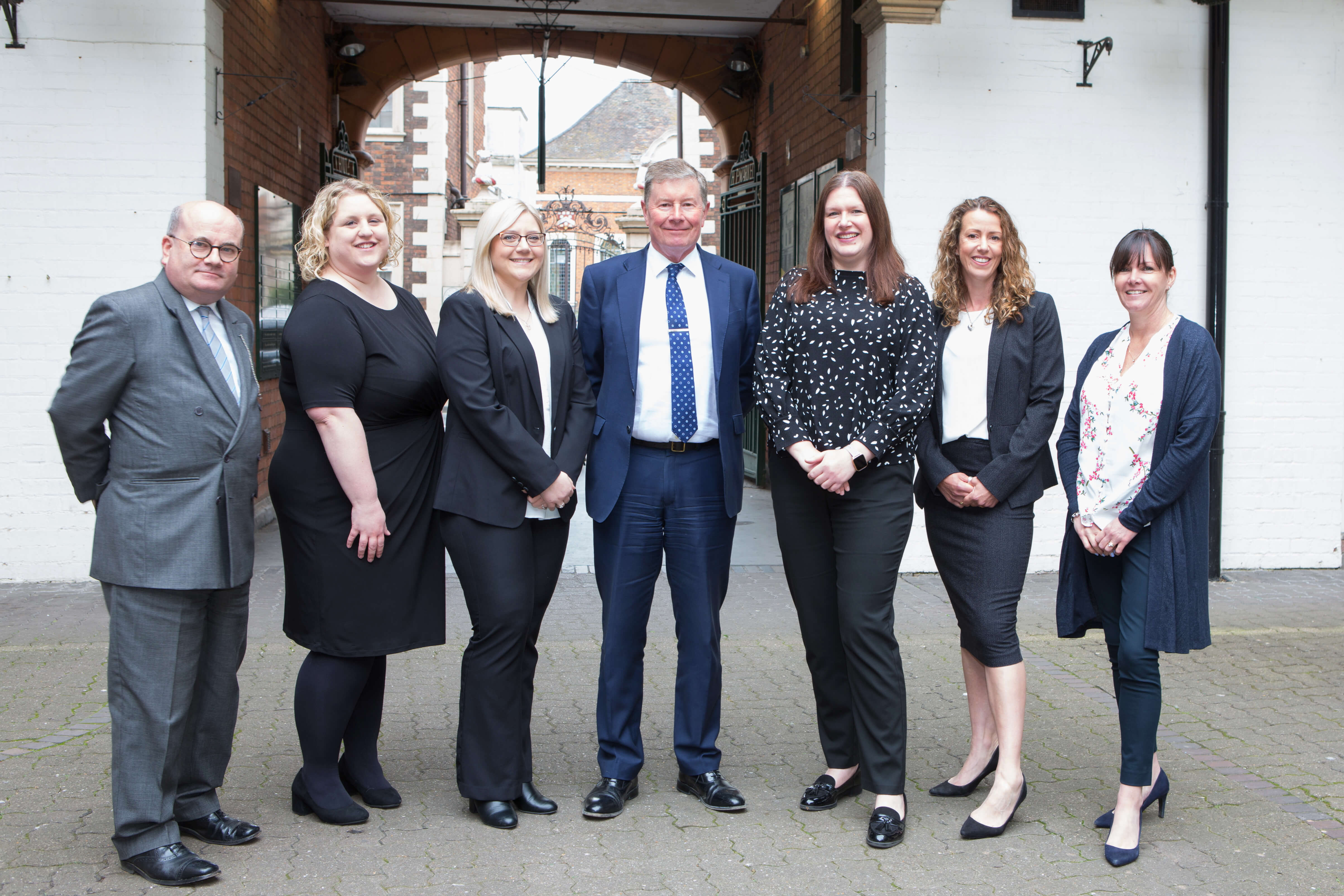 L-R: Douglas Godwin, Claire Simon, Cara Hancocks, Cyril Arridge, Louise Adams, Frances Woods, Faye Green
Cara Hancocks, Conveyancing Manager commenced work with the firm in 2009 as a temporary secretary and subsequently became a full time secretary in the residential property department. In 2016, she commenced training as a paralegal, becoming a Conveyancing Manager in 2018 and qualified as a Graduate of the Charted Institute of Legal Executives GCILEx in 2020. Cara says. "I really enjoy what I do and I am lucky to work with some great people. I am very proud to be part of such a great firm." Faye Green, Head of Residential Property says, Cara has been an asset to the conveyancing department progressing from secretary to partner. I am delighted to see her hard work and dedication to the firm being rewarded with this promotion which is very much deserved.
Claire Simon, Solicitor is a dispute resolution lawyer with a particular interest in personal Injury having worked in the insurance industry prior to joining the firm in March 2020. She is a member of the Association of Personal Injury Lawyers (APIL) and also provides voluntary assistance to the Action against Medical Accidents helpline. Claire says "I am delighted to be recognised by the Partners in this way. Despite the challenges of the last two years, I have been well supported in my role by those within my department as well as the wider firm and am looking forward to many more years with QualitySolicitors Parkinson Wright." Frances Woods, Head of Dispute Resolution says," Claire could not have joined the team under more challenging circumstances, having concluded her position with her last employer just as the country entered into lockdown. At a time when most of the firm were working from home and in person appointments were on hold, Claire was not able to meet the majority of her colleagues for some time but rose to the occasion in ensuring that clients were given the practical advice and assistance that they needed through virtual and telephone appointments. I am pleased that she has been offered this promotion, in recognition of her hard work and dedication since joining the team"
Louise Adams joined the Commercial department in January 2021 as an Associate Solicitor. She specialises in corporate and commercial law with particular interests in buying and selling businesses, shareholder and partnership agreements, commercial contracts and commercial property matters. Louise says "I am delighted to have been made Partner and am looking forward to continuing to grow and develop our commercial services." Douglas Godwin, Head of Commercial says, "Louise's expertise in corporate and commercial matters has been a welcome addition to the team and I am delighted that she has been promoted to partner to reflect this."
Cyril Arridge Managing Partner adds, "It is always rewarding to see colleagues who have grown in experience and technical skills joining our partnership, sometimes having started with us in quite junior roles."