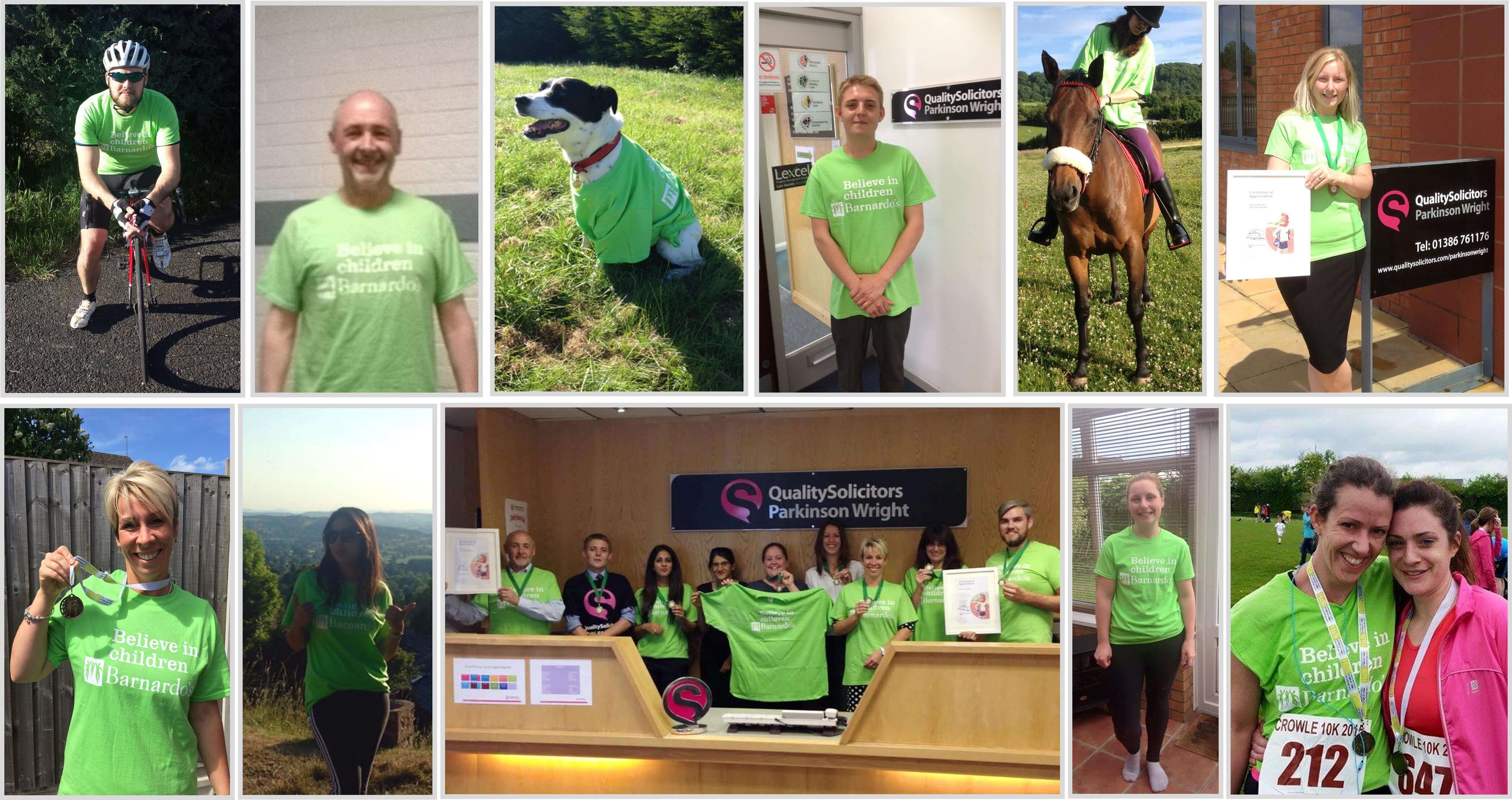 During the month of May - QualitySolicitors Parkinson Wright participated in the 'QualitySolicitors Distance Challenge for Barnardo's'. The Firm pledged to do 850 miles.
The unique initiative, which was publicly backed by Double Olympic Gold Medalist Daley Thompson, saw employees across the QualitySolicitors (QS) network and Barnardo's unite in an attempt to cover 2,300 miles - the distance between all QS firms in the UK, to raise money for the children's charity.
QualitySolicitors Parkinson Wright contributed towards the challenge through a mixture of running, cycling, swimming, kayaking, riding and walking. Collectively, the fundraising teams clocked up 1,756.30 miles, smashing their original distance target of 850 miles as they helped to raise vital funds and awareness for some of the UK's most vulnerable children.
Eleven employees from QualitySolicitors Parkinson Wright took part in the challenge, which was extended by one month due to its popularity.
We were extremely proud to be involved in this fantastic fundraising event. Together QualitySolicitors and Barnardo's have exceeded expectations, smashing their targets and more importantly helped raise funds and awareness of this great cause, showing just what can be done when you work as a team."
Dylan Carroll, spokesperson at Barnardo's comments; "We are extremely proud of the network and the generosity of all the participants and donors. We have been so impressed by the lengths QualitySolicitors firms have gone to, to make this initiative a success. Staff have unified around the challenge, going the extra for the partnership and raising vital funds for Barnardo's work with the UK's most vulnerable children."
The challenge was the latest initiative in the partnership between QualitySolicitors and Barnardo's, which dates back to 2010. In the past five years, QualitySolicitors and Barnardo's have worked closely on a number of joint projects. Every year the partnership organises Wear Green days, Bake Off competitions, and Will Weeks or Will Months where QualitySolicitors solicitors across the country offer their time for free to help over-55s to understand the importance of arranging their affairs.
Highlights from the event can be found by following hashtag #QS4Barnardos.
For more information on Barnardos please visit their website.
For details on Barnardos Free Will Scheme please click the link.