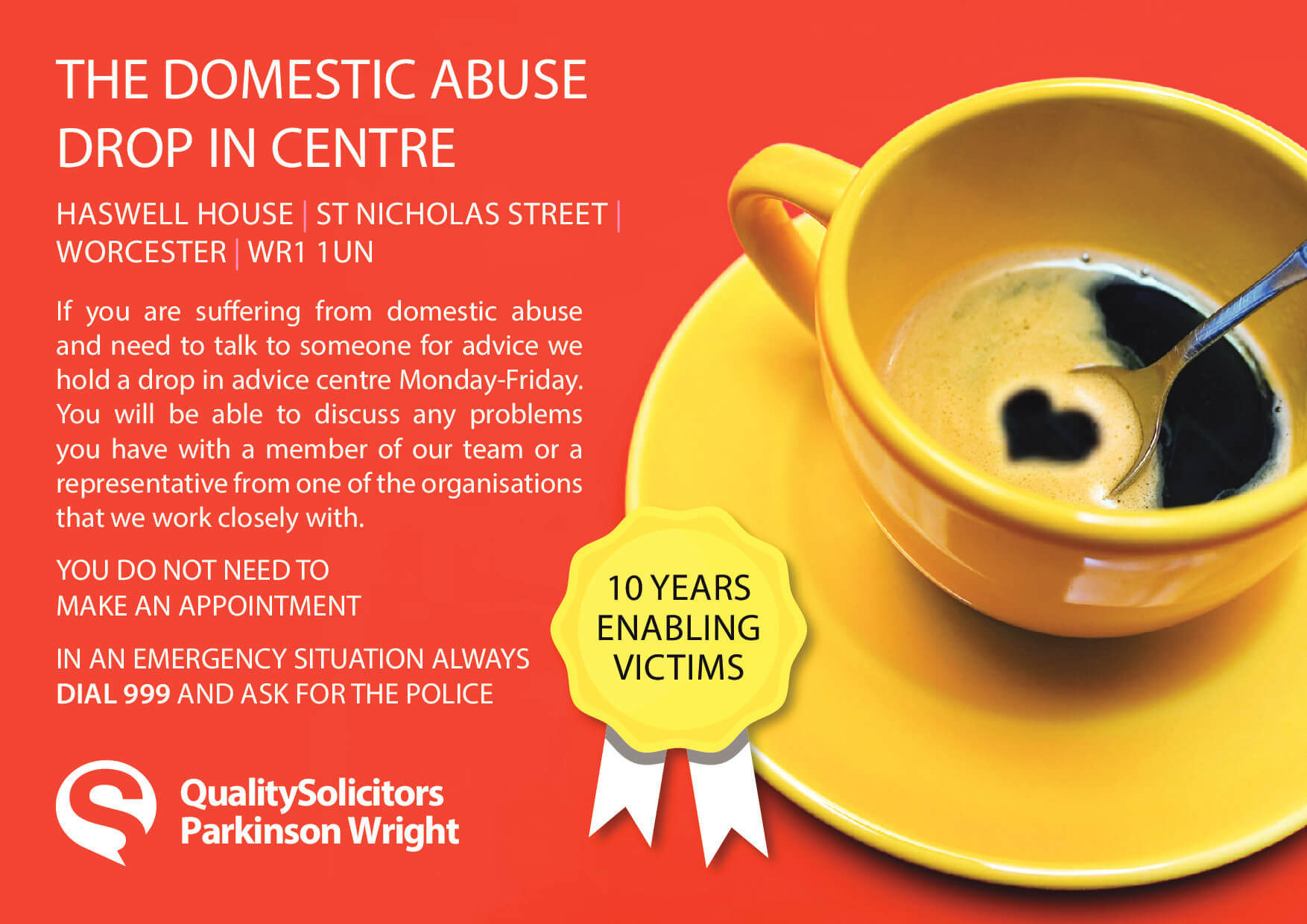 Suzanne Oldnall (BEM) is Head of the Domestic Abuse Team and the Domestic Abuse Drop In Advice Centre at QualitySolicitors Parkinson Wright.
She has over 30 years experience in Family Law, in particular, Suzanne specialises in domestic abuse cases, emergency injunctions and non molestation orders and recently received a British Empire Medal in the King Charles III Birthday Honours List 2023 for her services to victims of Domestic Abuse.
Suzanne is well respected by the Police and professional support services for her caring and sensitive approach. If you are suffering from domestic abuse and need legal assistance please call into the Drop in Centre which is open Monday - Friday 09:30am - 4:00pm or if you would prefer to speak to a member of the team on the telephone you can contact us on 01905 721600.
You will not need to make an appointment.
In an emergency situation always dial 999 for Police Assistance.
assisted by Sharon Lilly and Amy Lane
A selection of letters from sufferers of domestic abuse who have used the Drop in Centre over the past 10 years.
"To Sue and your team, thank you for all your support and assistance in making the biggest decision I have ever had to make. For changing my life and that of my children. At last we are now a very relaxed and happy family. I now have the confidence to live a life and have a choice. Once again I send my thanks, without your support I think I would probably still be unhappy in an abusive relationship. Now I am free and feel that independence day for me was the day I walked into your office and you listened. Thank you so much."
I had the unfortunate need to use a solicitor for a family court case and Suzanne Oldnall was highly recommended to me. I have to say she has been absolutely fantastic; she is professional and knows exactly what she is talking about, but she is also brilliant with her advice and unbelievably empathic to your needs. I was a mess with the situation as I was so nervous and anxious about what would happen but every time, I spoke with Suzanne I came off the phone feeling relieved and happy because she gave me the confidence, reassurance, advice and sympathy that I needed. She could totally relate to all my feelings as well as be professional and give advice on exactly what I needed to do. My case has now finished with an even better outcome than I could think possible and that is all down to her professional approach on how she handled things and also her amazing guidance on what I needed to do." Not only that, if Suzanne couldn't answer her phone, I would always speak to her secretary Sharon who again is so professional but also amazingly understanding. There were many times I spoke to Sharon to arrange a call back from Suzanne and she was so supportive to me and made me feel so much better, she just completely understood. Having to go through these awful times, you need someone professional and experienced but also understanding and this is exactly the experience I received. Suzanne's wealth of knowledge and experience is exceptional, and I would urge anyone who is looking for a solicitor to seek Suzanne, she simply is the best and Sharon too. You will not be disappointed with the professional and empathetic service that you receive. I honestly would not have had this amazing outcome if it weren't for them. This review is thoroughly deserved as well as a massive thank you from myself.
"I want to write a few words to express how much I appreciate you all at Parkinson Wright, especially Suzanne and Sharon. It really has been the most difficult year of my life. As mentioned before, never in my life did I ever think that I would end up where I did with regards to my family life and my children. As a Mother, I questioned everything that I did, doubting myself all the time. Wondering if it was my fault, and if I could carry on. However, I had the best team that I could have ever asked for. Genuinely, from the bottom of my heart I would like to say thank you for all that you have done for me. Not only from a professional point of view, but also to what I feel like became a friendship. When I had no one else to turn to for the right advice to make sure I was making the right decision every step of the way you were there. Knowing that I had true, caring professionals behind me gave me the confidence in myself as a Mother and knowing that what I was doing was right by them. Without you, I would never have had the confidence to carry on. Everything that happened in court was the right decision by my babies, and that is down to you. Therefore, I would again like to say thank you. If I ever need your help again I know where to come. "
"What you are doing for these women and men who are in DV relationships is all worth going to court to help us realise justice will be done and we can finally see that there is a light at the end of the tunnel, without your help I would never have had the strengh to do what I did, so a massive thank you from me and my children for helping and now we feel we can move on."
"Suzanne Oldnall gave me the courage to leave and her empathetic approach was just what I needed at the time. What a relief, I now have freedom. Many women leaving domestic abuse start a new life with nothing. I consider myself fortunate to be able to start afresh. I have truly appreciated the way that you have supported me into a new future."
"At the time, I thought that my world was ending, coming to see you made me stronger and more confident to go ahead. Having that as a foundation I am no longer as scared as I used to be. I realise that I didn't actually do anything wrong to cause this situation. I remember that you gave me a small hug at the end of our meeting and told me I was a lovely person. It had been such a long time since I had been told anything so nice."
"Thank you for being such an important part of both mine and my child's life and thank you for giving me the strength to carry on and survive. You are a credit to QualitySolicitors Parkinson Wright and I tell others in similar situations to come and see you, simply due to how you treated me."
"Thank you so much for your hard work and dedication. The last few years have been horrific and there were times when I felt like giving up but you helped to keep me going. You have saved my life but more importantly my child's life. I can never thank you enough. You are an inspiration to women everywhere. Thank you."

"I used Suzanne Oldnall recently for a family related matter and I can not be more grateful for the service I received! In what was an extremely stressful and anxious time for me, Suzanne was always at the end of the phone to reassure me and gave professional advice and reassurance throughout. She was extremely sympathetic and understanding, and got the result we were hoping for! Can't thank her enough for her friendly and professionalism throughout! Eternally grateful!"