Can I get cash instead of vouchers if my flight or package holiday has been cancelled?
I requested a refund but I've been sent a voucher instead. What are my rights?
If I take a voucher, am I protected if the holiday firm goes bust?
I have a holiday booked – how can I get my money back?
The anniversary party I had booked has been cancelled, but they won't give me a refund and I have to postpone to another date. What are my rights?
If you have a dispute with a business or an individual, your case will be allocated to one of three tracks:
Small Claims Track: Dealt with by the Small Claims Court if the value of the claim is lower than £10,000. Court should however, be seen as a last resort when all other methods of trying to resolve the dispute have been exhausted.
Fast Track: For claims with a value between £10,000 and £25,000
Multi Track: Claims with a value of over £25,000 (or less if the case is extremely complex with difficult points of law or evidence)
Claims can often escalate and become difficult fairly quickly and it is therefore vital that legal advice is sought as early as possible. Fast Track and Multi Track cases tend to be more involved and complex and can therefore take longer. Please see our flowchart for the process of making a claim.
Our experienced Disputes Team can provide advice on whether you have a claim, whether it is worth pursuing and the likelihood of success. Guidance and support from a legally qualified professional at an early stage can be invaluable and to help you, we can offer fixed price packages for Small Claims (see below). For Fast and Multi Track claims, our fees will be dealt with on an individual basis, depending on the initial analysis of the matter. There will be no hidden costs and we are upfront and transparent with our fees. We can also provide support and guidance at certain stages throughout the process, should you prefer to not instruct us for the whole of your claim.
If you would like to talk through current situation or book a remote meeting, please contact Parveen Sidhu on 01926 491181 or email: ParveenS@moore-tibbits.co.uk.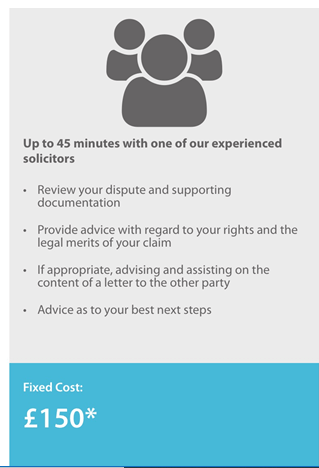 *The service provided depends on your individual requirements/ circumstances and should further advice be required this can also be arranged on a fixed fee basis