About us
QualitySolicitors offers a simple way of getting easy access to expert legal services, because the aim of every QualitySolicitors firm is to provide clients with top-quality legal services and exceptional customer service, every time.
QualitySolicitors is a network of local law firms; the largest in the UK. We're dedicated to providing the highest quality legal advice and expertise for our customers, but in a way that's far friendlier, more accessible and clear-talking than you might expect from a law firm.
As a QualitySolicitors customer you'll deal directly with a lawyer who won't baffle you with legal jargon. You'll deal directly with a lawyer who will quickly and efficiently keep you 'in the loop' every step of the way, with regular contact, using regular everyday language.
This is why we like to think we're "changing the way people see lawyers"...
How we're changing the way people see lawyers
Whether you're buying a house, or making a will, getting divorced, or starting a business, we have specialist lawyers who can help.
In fact we have legal specialists in over 100 areas of personal law, family law and business law, so pretty much whatever you need a lawyer for, we almost certainly have a solicitor who has the exact specialist skills that can help you.
That means when you approach QualitySolicitors, we can usually quickly find a local lawyer who will be able to work quickly on your case and ensure a successful straightforward smooth-running experience for you from start to finish.
And what's more, when you first contact us, we'll listen to what you want from your law firm and then find the right lawyer for you. For free.
We call this Free Initial Assessment...
Free Initial Assessment
You don't need to worry about being charged anything when you first contact QualitySolicitors, because we offer Free Initial Assessment to everyone who calls us.
That means we'll listen to what you need, make sure you're connected to a local QualitySolicitors law firm, and then quickly match you up with a specialist solicitor who can advise you further. You don't have to worry about this costing you anything.
Even after your Free Initial Assessment, we know almost everyone feels worried (even if only a little bit) about what their legal work is all going to cost in the end. Many law firms used to be notorious for surprising people with unexpected costs on their final bill, but with QS you never have to worry about that because we operate a Clear Price Guarantee...
Clear Price Guarantee
We don't like giving our customers surprises on their bills, because it's not great customer service at all. That's why QualitySolicitors law firms operate a Clear Price Guarantee.
The QualitySolicitors Clear Price Guarantee means that when you come to us, we tell you what the cost of our work will be before we do it rather than afterwards. So you're always in control. And that makes budgeting for your legal services much easier.
We're so committed to this guarantee, that if you ever see a charge for our work that we didn't tell you about previously, you won't have to pay it.
But our excellent customer service certainly doesn't end there, because after Free Initial Assessment and as well as our Clear Price Guarantee, our Ask the Legal Expert, Business Advice Meetings and Small Claims services also offer outstanding value for money...
Ask the Legal Expert
After your Free Initial Assessment, if you want to talk your situation in much greater detail with a lawyer but don't want to commit just yet, then our Ask the Legal Expert service is ideal for you.
For only £99, Ask the Legal Expert offers a 45-minute face-to-face meeting with a specialist lawyer who will discuss your case in detail, clarify any legal principles involved, and give you clear legal advice on what you can do to proceed.
You may want to work with us after this, or you may not; we'd be more than happy to but there's no obligation at all because it's entirely your choice. Either way, after your Ask the Legal Expert meeting you'll have a much clearer idea of what legal options you have; and all for only £99.
Business Advice Meetings
Are you a business owner or run a small business? If so, you'll undoubtedly appreciate having a dependable solicitor that you trust who understands your business well enough to regularly quickly turn round legal work.
Many business owners now take advantage of our convenient Business Advice Meetings to address some specific business-related legal issue, because with 1½ hours of face-to-face time with a lawyer for only £195 + VAT it represents superb value for money.
Talk through legal problems, review contracts, or get help with filling in legal forms; use your Business Advice Meeting in whichever way you need to. Having quick and easy access to expert legal advice in this way can really make a difference to the success of your business.
Small Claims Services
If you have a dispute with a person or organisation over something worth £10,000 or less, you may wish to make a small claim to resolve your issue.
Our Small Claims Services comprise a wide-ranging selection of effective legal resources, advice and remedies that can help you towards getting the compensation payment or remuneration that you're entitled to.
We even have free resources that could help you towards a successful small claims conclusion...without the need to speak to a lawyer.
Expert legal advice the way you want it
As people who deal regularly with QualitySolicitors know, we make several key customer service promises that we hope will ensure a smooth-running highly effective experience from start to finish.
Customer service means everything to us. Naturally we're here to provide top quality legal advice and service to individuals and businesses alike, but lots of law firms claim to do that.
At QualitySolicitors we want to be different. We want to be the law firm that bent over backwards to make you feel welcomed, listened to, and valued. And did a great job for you.
And how do we do that? We do that with our five key promises:
Free Initial Assessment: when you first contact us, we'll have a short chat and then tell you what we can do to help you...for free.
Direct lawyer contact: your QualitySolicitors lawyer is there for you, and you'll have their direct contact details so if you need to talk something important through, you can speak directly to the actual person who is working on your case.
Same-day response: call or email before 3pm and, if they can't take your call, your QualitySolicitors lawyer will do everything they can to get back to you that very same day.
No hidden costs: with our Clear Price Guarantee, you'll always know the cost of our work before we do it.
Saturday openings: busy during the week? No problem, we can arrange a Saturday appointment if you need to come into the office to see us.
And finally...
An exceptional level of enthusiasm, professionalism and legal expertise is assured when you come to QualitySolicitors.
And as you can see, our commitment to our customers is fundamental to the way we work.
We hope you'll appreciate our straightforward, clear-talking approach.
Our promises
We make the following promises to our customers. They show that with QualitySolicitors you can expect great legal advice and exceptional customer service.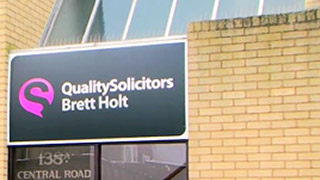 Play Video
Conveyancing
"They have always been able to answer my questions very promptly and also, very important to me, they were very reasonable in their costings."
Find out more