Key factors to be aware of are:
Your previous Will is still valid until your divorce is final.
After your divorce is finalised, your Will is still valid but your ex-spouse cannot benefit from it.
If you re-marry, your Will will no longer be valid and you will need to make a new one.
What effect does divorce have on my Will?
Unlike marriage, a divorce does not invalidate your Will. Once a Decree Absolute has been issued, anything that was gifted to your ex-spouse would be dealt with as if they had died on the date that your marriage legally ended. This means that whatever they were set to inherit would be passed on to the next beneficiary who is entitled to it according to the terms of the Will.
If no other beneficiaries are named in the Will, then your Estate will be dealt with as if you have died without a valid Will and the law will decide who will inherit from you under the Rules of Intestacy. Click here to view our Quick Answer flow chart on the Rules of Intestacy. These rules place relatives in order of priority and can cause problems as they do not always account for modern family relationships and your Estate could be distributed in a way that you would not have wanted.
My ex-spouse is the Executor of my Will – what should I do?
If your ex-spouse is named as an Executor, this will be revoked after the Decree Absolute has been issued however, where more than one Executor is appointed, the other Executors will still be able to act and carry out your wishes. If your ex-spouse was the only named Executor, an alternative will be appointed by the Court which will usually be a family member or friend.
I have separated from my spouse but our divorce is not finalised yet – will they still inherit?
If you have separated from your spouse, but you are still legally married, your Will remains valid. This means that your spouse will still be entitled to inherit as per the terms of the Will.
If you do not want your spouse to benefit from your Estate before your divorce is finalised, it is essential that you consider writing a new Will to ensure your Estate is distributed how you would have wanted.
I have started divorce proceedings but I haven't made a Will – what will happen?
If you die without a Will, before you have received your Decree Absolute, your spouse will inherit from your Estate. Without a Will in place, the law decides how your Estate will be distributed (following the intestacy rules). You lose the right to choose and the result may not be what you would have intended which could lead to potential legal problems for those you love. For further information on what happens if you don't have a will, click here.
What happens if I re-marry?
Marriage makes all previous Wills invalid. If you have made a Will "in contemplation of marriage", naming the person you intend to marry, then your Will will not be revoked. If there is no mention of the intended marriage in your Will, it will automatically be revoked at the time of marriage. It is essential that you make a new Will to ensure those you choose to inherit, do so as without one the Rules of Intestacy will apply.
Next steps…
Contact us if:
You are going through a divorce or ending a civil partnership
You are planning to get married or have recently got married
Your personal or financial circumstances have changed (ie. A windfall or new grandchild)
We strongly recommend that clients review their Wills regularly, at least every 3-5 years to ensure that their wishes are consistent with the law and it is clear how you want your Estate to be distributed. At the same time as reviewing your Will, it is also important to check pension or life insurance policies as a spouse may be nominated to receive death benefits and these would need to be updated appropriately.
Our team has a wealth of experience in Will drafting and indeed some of our solicitors are members of the Society of Trust and Estate Practitioners (STEP) which is recognised as the 'gold standard' professional qualification. Our clients can be assured that our solicitors have undergone rigorous training and are able to offer specialist advice to families regarding all aspects of Will preparation, inheritance and succession planning.
If you are separating, divorcing or ending a civil partnership and would like more information about your Will, please contact our team for a free initial telephone consultation on 01926 491181.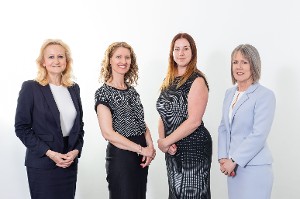 Our Wills team: 01926 491181
Our family solicitor is also available should you wish to discuss any aspect of the divorce process and fixed fees are available. To find out more about the cost of a divorce, please see our latest article.
Call Carline Gayle-Buckle for a free initial telephone consultation on 01926 354704 or email: CarlineG@moore-tibbits.co.uk.