Navreet studied Law at the University of Birmingham and completed the LPC at the University of Law in Birmingham. She then worked as a Paralegal in the residential conveyancing team at another law firm before joining Moore & Tibbits in 2018.
We were delighted to offer Navreet a training contract the following year providing training seats in the areas of residential conveyancing, commercial property and litigation.
Navreet says "My training has provided me with a valuable insight into specialist areas, not only in relation to laws and procedures but also the importance of client care. It has been a challenging, enjoyable and incredibly rewarding two years".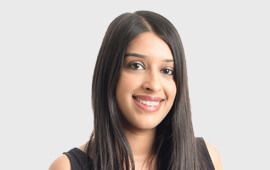 The lockdown has been challenging with remote working requiring everyone to operate in different ways, overcome learning challenges as well as adapting to the levels of social restrictions placed on us all. Despite this, one of Navreet's highlights has been successfully completing the Professional Skills Course (PSC) during the pandemic as all courses and exams had to be conducted remotely.
Speaking about inspiring future solicitors, Navreet provided this advice "Make the most of each seat – ask questions regularly, step outside of your comfort zone and take on tasks you do not feel completely comfortable with, seek feedback from your supervisor and most importantly enjoy the varied training".
"I have learnt more than I ever imagined during my training contract and thank each supervisor in my seats for their support and invaluable training. I am looking forward to starting my career as a Newly Qualified Solicitor in residential conveyancing".