Many parents were frustrated or were unaware that they could no longer access their children's accounts once they reached the age of 18. Many felt overwhelmed by the complexity and cost of the application forms as well as the many months of waiting to receive often, what are considered, as small sums.
The government consulted on the plan in 2021-2022 where access to accounts such as a Child Trust Fund (CTF) or a Junior ISA up to £2,500 would be allowed without the need to apply to the Court of Protection.
While an overwhelming majority of consultation respondents supported the establishment of a new scheme, the Ministry of Justice said there was no clear consensus on how the scheme could be set up and operate safely whilst still protecting the finances of those at risk.
It became clear that the root causes of parents not being able to access funds was the current application process and a lack of awareness of the Mental Capacity Act. Many people lacked awareness of the Mental Capacity Act 2005 and the need to obtain legal authority in order to access funds and the steps involved when making decisions on behalf of their child when they reach 18. The current court application process was also felt to be disproportionately lengthy and costly given the amounts of money usually involved.
To address the root causes, instead of amending the Mental Capacity Act 2025 the Ministry of Justice will raise awareness about the need to obtain legal authority for adults who lack capacity, especially in the case of 16-17 year olds, to plan in good time before they reach 18. They plan to engage with other Government departments, financial service providers, special educational needs and disabilities schools, social workers and banks to help raise awareness. They will also work with the Court of Protection to improve the application process through digital access. The digital pilot scheme has already cut processing times from 24 weeks to two months.
Simplifying the current system is already ensuring that families can access the money they have saved quicker while maintaining the vital safeguards that prevent abuse and fraud.
These changes should make the forms more accessible and easier to complete while also reducing application processing times.
If you have a loved one who lacks the mental capacity to manage their finances and you are unsure of what to do, please call Marie O'Malley on 01926 354704 to discuss your situation and how we can help.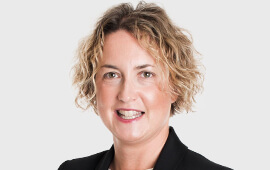 Marie O'Malley | Senior Solicitor