Background
The case involved PG who is a 34 year old woman who has a diagnoses of intellectual disability in moderate range, and autism spectrum disorder. PG has also had recently been diagnosed with trauma based mental illness with Emotionally Unstable Personality Disorder traits and mild learning disability.

The case
At the time of the hearing, PG was living in the community in a supported living placement, where she had lived since August 2022. Prior to this, she was living with my client however, due to a deterioration in her mental health, PG was admitted to a psychiatric unit under section 2 of Mental Health Act and was subsequently discharged to a supported living placement. The local authority had concerns about PG particularly about her safety and the need to be able to intervene. Some of the recent incidents are outlined at paragraph 7 – 16 of the judgment.

The matter was transferred to the High Court to consider PG's capacity.

Capacity
The proceedings have been ongoing since 2021 but PG's capacity remained in dispute. During this time, there had been multiple reports from Dr King, Highly Specialist Clinical Psychologist at the Intensive Support Team of the Adult Neurodevelopment services for the local NHS trust. Dr King gave oral evidence at the hearing and was cross examined by the barristers representing the parties.

The parties agreed that PG lacked capacity to make the following decisions:
To conduct these proceedings; and
To enter into an occupancy / tenancy agreement
The parties agreed that PG had capacity to make decisions about where she lives.

The subject matter of the most recent hearing was whether PG had capacity to make decisions about her care (including when she is within her home, when in the community, and at times of heightened anxiety). There was also a disagreement as to whether PG had capacity to make decisions about her contact with others, including at times of heightened anxiety.

Outcome
Within her judgment, Lieven J commented:

"This is a complex case because of the nature of PG's presentation. In respect of both care and contact with others there are times when the evidence suggests that she does have capacity to make decisions and others when she does not, therefore this is undoubtedly a case of fluctuating capacity. The fluctuations appear to depend on the level of PG's anxiety and whether she feels under stress. The situation is made even more complicated by the fact that when PG is in the community, her decision making may also be influenced by the consumption of alcohol. This is, of course, not a ground for finding a lack of capacity under the MCA. However, her consumption of alcohol may itself be influenced by the degree to which she feels anxious and under pressure"

Whilst it was acknowledged that there may be times when PG's decision making was impacted by alcohol consumption, Lieven J stated that "it was not possible to disentangle the influence of alcohol from the impact of her mental impairment" however, it was not the position that PG only lacked capacity at times when she was intoxicated.

Lieven J was invited to consider the relevant case law regarding fluctuating capacity i.e. whether a longitudinal approach can be adopted or making a distinction between micro and macro decisions. Those representing PG submitted that the relevant case law did not apply to PG and instead, invited the court to consider another case whereby the Cobb J used anticipatory declarations when P had a meltdown and/or become dysregulated and lost capacity. Lieven J was keen to stress that she must have regard to the importance of making orders which are workable for PG and her carers whilst preserving her autonomy. The court did not accept the submissions of those representing PG as it would be unworkable for her carers to adopt. Instead, the Lieven J adopted the longitudinal approach and made a declaration that PG lacked capacity in the two key areas but sought to highlight that when being helped by the care workers they should so far as possible protect her autonomy and interfere to the minimum degree necessary to keep her safe.
For full details of the case, click here: https://www.bailii.org/ew/cases/EWCOP/2023/9.html
Thank you from Charlotte
Charlotte would like to thank Becky and Debbie for all their help on this matter!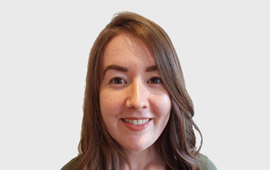 Charlotte Bell | Solicitor