Local Law Firm Mount Pen y Fan For Charity
Employees from Newport-based law firm QualitySolicitors hpjv have taken on Pen y Fan in the Brecon Beacons National Park in order to raise £355 for children's charity Barnardo's.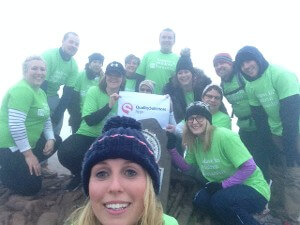 At 886 metres above sea-level Pen y Fan is the highest peak in south Wales. The group of 14 started their trek at 4.30am on Saturday 22nd of April and reached the top in 1hour and 30 minutes.
This is the third time in less than a year that the law firm has helped raise money for Barnardo's. Following a half-marathon and a charity zip-wire. They also donated 40 gift boxes at Christmas to the local Newport Young Carers, a Barnardo's run project, as well as Easter Eggs donated by the staff. Overall, QS hpjv has raised £855 for the children's charity.
Louise Shortman, one of the firm's Solicitors who organised the event, said; "It was a challenge getting to the top, but all involved really enjoyed the day and loved that they were contributing to the great work that Barnardo's does for children across the country".
"We are already looking into future fundraising opportunities as a firm."
Dylan Carroll, Senior Relationships Manager at Barnardo's, said; "We'd like to thank QS hpjv for all the hard work they have done over the last year to support their local Barnardo's projects and initiatives.
Last weekend's sunrise walk is just another example of different ways to help raise money for future support of vulnerable young people."
Quality Solicitors hpjv have been established in Newport for over 30 years, earning themselves a reputation to be able to properly represent the local areas in a wide variety of legal matters. Senior Partner, Paul Philpott, said: "As well as offering a quality local legal service to our clients, we are committed to contributing in a positive way to our community, including local and national charities. We have an excellent relationship with Barnardo's and are proud of our team's commitment to their cause."
About QualitySolicitors:
Launched in 2010, QualitySolicitors is a group of law firms across the country working as part of the QualitySolicitors brand. Only one firm per local area is selected to become a QualitySolicitors partner. Customer feedback forms an integral part of the selection process.
QualitySolicitors' national network of lawyers consists of over 100 branches across England and Wales.
QualitySolicitors lawyers are experts in their fields dealing with both consumer and SME legal matters. QualitySolicitors offers a personal, local service but with the assurance of a recognised national brand.
QualitySolicitors' website address is www.qualitysolicitors.com
In 2011 QualitySolicitors secured equity investment from Palamon Capital Partners, a private equity house with a £700m fund.