Barnardo's Will Scheme
QualitySolicitors has an exclusive ongoing partnership with Barnardo's meaning you can have your Will written at no cost*, all we ask is that you consider remembering Barnardo's in your Will.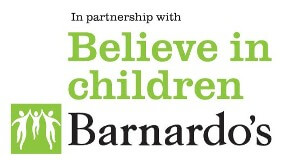 Over the last eight years, QualitySolicitors clients have collectively pledged an estimated future income of £16.8 million, which will enable Barnardo's to be there for children, young people and their families in the upcoming years to turn to, when they need support. We're proud to support Barnardo's for the ninth year in 2019.
Barnardo's is so grateful for every gift received, big or small. It all helps transform the lives of children facing a huge range of challenges, from the horrors of being abused to leaving care to caring for a sick or disabled loved one to needing help with education or employment. Last year Barnardo's supported over 301,000 children & their families.
Watch this clip of a QS & Barnardo's event which illustrates how a gift left in your Will can help transform the lives of vulnerable child and young people.
Remembering a charity, alongside family & friends, in your Will doesn't cost you a penny during your lifetime and it will not affect your standard of living, but enable a cause close to your heart to continue in the future. You don't need to be rich and famous to make a contribution that can make a difference. Imagine being able to do something amazing by remembering a favourite cause that is close to your heart when making a Will which could make an enormous and positive difference to the lives of the UK's most vulnerable children.
£1,000 could help 10 young carers make the difficult transition into independent living by providing good quality second-hand furniture
£5,000 could help up to 60 young carers enjoy respite from the pressures at home by providing accommodation and activities for a residential break
£11,500 could help a family stay together by providing a year's support for a family where there has been violence between the adults
1% of a £100,000 estate could help one young person get their life back on track through specialised counselling & support to deal with their suffering from being sexually exploited
Jenny, was in desperate need of Barnardo's support having been raped at 16 & has been brave enough to share her story to help raise awareness of how vital gifts left in Wills to Barnardo's are.
Find out more atBarnardo's

How does it work?
Receive a standard will written by a legal expert

Our experts will guide you through the things you should consider when making a Will to ensure that your wishes are fully understood. By choosing QualitySolicitors, you can be confident that you'll receive exceptional customer service. Each QualitySolicitors firm is an independent law firm and shares the aim of providing clients with the highest standards of legal expertise.

There's nothing for you to pay

Whilst there is no obligation to leave Barnardo's a gift, this partnership means the charity will cover the cost of your Will** in the hope that you will be moved to consider pledging a gift to Barnardo's alongside your loved ones.

You're under no obligation

It's your Will, and there is no pressure on you to leave a gift to any person or organisation other than those of your choice. We guarantee that the legal advice which you receive will be of the highest standard and completely independent.
To talk to a legal expert about your affairs and to receive a free Will, simply call us on 08082747557.
*Applies for people aged 55 or over
** This covers a standard basic Will and you will be charged for additional services required. Barnardo's have agreed to pay the reduced cost of £70 +VAT for a single Will and £120 +VAT for a mirror Will
Expert legal advice

you can rely on: