What to expect if your marriage is ending
Lawyers around the country have dubbed the first working Monday of January 'Divorce Day' — so-called because of the spike in web searches, enquiries and instructions after the Christmas period — but it's fair to say that Divorce Month is more accurate.


Across the QualitySolicitors network, there is a 45% hike in divorce-related website searches in January, a 41% jump in people picking up the phone to speak with a solicitor, and an 82% increase in would-be divorcees making online enquiries. The figures show a clear trend that Christmas and New Year is not a festive period for everyone.
"Although for many families Christmas is a special time, it can also be an extremely challenging one for couples who are separated or whose marriages are in difficulty," divorce Barrister Karol Kaliczak at Moore & Tibbits, a member of the QualitySolicitors network, explains.
"Arguments can often arise in in respect of financial issues, and in respect of the arrangements for children. Although it can be lovely having family members around to visit, the added pressures and family obligations over the Christmas period can lead to tension and flare-ups."
Gail Cook at QualitySolicitors Yates & Co agrees, having witnessed the New Year trend in relationship breakdowns and separations during her 30 years in family law.
"People tend to pile in to see family solicitors in January because they have just had an extended period of time together and realise, they cannot stand being together! Extra time at home together, coupled with more alcohol than usual, is a recipe for disaster in a marriage that is already perhaps unstable."
While divorce is at an all-time low since 1973, there were still 101,669 divorces of opposite-sex couples in England and Wales in 2017 and 338 divorces of same-sex couples. Family lawyers postulate that the New Year provides an opportunity for those already considering the longevity of their relationship to re-think their future and find motivation in the 'New Year, new me' mind-set.
Regardless of when people choose to divorce, it is inevitably an emotionally difficult process and will take time. Individuals looking to divorce would benefit from speaking with a specialised family solicitor to understand the process that will follow, help them mentally prepare for what's ahead, understand their rights throughout, and to hopefully come to an agreement on things like child arrangements and any financial assets more quickly and amicably.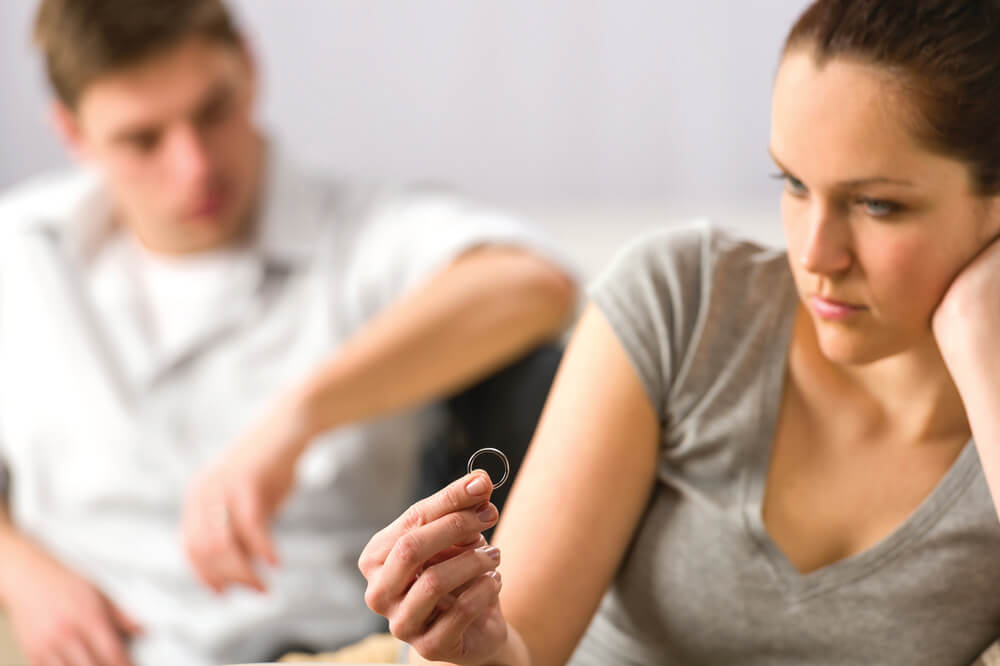 Saying 'I do' to divorce
Divorce can be a lengthy and ugly process, bringing bitter feuds to the fore with finger pointing from both sides. Barrister Karol Kaliczak says it's important for both parties to be patient and to try and be reasonable.
"Getting a divorce and sorting out all the issues that arise – financial, and/or child-related – will be difficult and will take time," Kaliczak says, adding "The more constructive the atmosphere in which these issues are dealt with, the better. It may be easier said than done, but as far as possible anger and resentment should be put aside as it will only lead to stress and increased legal costs."
The length of the divorce process itself will differ, depending on whether the divorce is contested or uncontested and how soon both parties can come to an agreement. Family law specialist Gail Cook adds that, in her experience, divorces are rarely contested, and this is no exception for the New Year rush.
"It may be the case that the person who feels they are being blamed may indicate their refusal to co-operate, but this is different to actively contesting. Once the divorce process is up and running, both parties usually realise that the marriage is over, and they accept that and concentrate on the important issues divorce raises; that is arrangements for their children and finances."
What to expect in the (uncontested) divorce process?
Divorces are not always a straightforward process and the time scale varies on which Divorce Unit (a particular unit of the family court set up to deal with divorces) deals with them. Often, the whole process takes nine months. During the process, negotiations take place regarding the financial aspects with a view to a final agreement being reached by the time the Decree Absolute (the second and final divorce decree) is due.
If you are in the unfortunate situation where your marriage is ending, these are the steps you can expect in an uncontested divorce process.
Step One
The petitioner (the person starting the divorce process) files a Divorce Petition a Divorce Unit and the other party (known as the respondent) receives a copy, along with a Notice of Proceedings Form (which is for their information only) and an Acknowledgement of Service Form. Any applications to the court will involve a court fee.
For the petition to be official, the petitioner has to show there has been an 'irretrievable breakdown of the marriage'. This is based on the following accepted facts:
Adultery
Behaviour
Desertion
Two years' separation (with the consent of the respondent)
Five years' separation (your ex does not need to agree to the divorce)
The respondent will need to return an Acknowledgment of Service within eight days. Within this they will be asked if they plan to defend the divorce proceedings (i.e. whether they agree with the divorce or not). If the respondent does plan on defending the divorce, they must file a defence within 29 days (they have more time if living abroad).
Step Two
Once an Acknowledgment of Service is returned, and there's confirmation the divorce is not being defended, the petitioner will then need to prepare a Statement in Support. This has to confirm the accuracy of the Divorce Petition and must include any changes of circumstances since the petition was initially filed, such as change of address. The Statement in Support is sent to the Divorce Unit along with a request for the Decree Nisi to be pronounced.
Step Three
The Judge will consider the divorce application and whether the accepted facts have been proved. The date of the Decree Nisi pronouncement will then be set. There is no need for anyone to be present in the court for the pronouncement and quite often this will be read out to an empty room. Once the Decree Nisi has been pronounced, orders can be made relating to finances.
Step Four
Six weeks and one day after the Decree Nisi is pronounced, the petitioner can apply for the final divorce decree (Decree Absolute) by submitting a Notice of Application to the court. This is the decree that officially ends your marriage, so ensure that all outstanding financial issues have been resolved before submitting an application. It is important to bear in mind that there are several pros and cons to consider in terms of the timing to lodge your application, which an experienced family law solicitor can help you weigh up. It is also worth remembering that the respondent also has the option to apply for the Decree Absolute three months after the six weeks and one day time period. Once the Decree Absolute is issued, this will officially end your marriage.
Step Five (optional)
A Decree Absolute may officially end your marriage, but it does not protect you from any future financial claims against one another. The only way this can be done is to obtain a final financial order, meaning the financial settlement in the divorce process is final and no further claims can be made in the future. Following your divorce, it may be the case that one party finds themselves in a stronger financial position, which may expose them to an application for financial remedy.
Sandra Horwood, Partner and Head of Family and Matrimonial Law at QualitySolicitors J A Hughes specialises in financial proceedings relating to divorce and children matters and says she has seen too many people skip what she considers to be the final hurdle of divorce.
"I have seen a number of cases where distraught individuals have to re-live the stress of their divorce years later as former partners attempt to claim part of their home, pension or other assets. Obtaining a final financial order does incur additional legal fees and time in the short term, but it is a very worthwhile investment in the long term for peace of mind about your financial wellbeing."
No Fault Divorce
As it stands, those wishing to end their marriage must rely on five grounds of divorce, which many in the legal community have referred to as encouraging finger-pointing and animosity. A No-Fault Divorce Bill, first introduced in parliament in Jun 2019, looks to spare "…individuals the need to play the blame game, we are stripping out the needless antagonism this creates so families can better move on with their lives", commented Justice secretary Robert Buckland. At the time this article was published, the Bill had been introduced to the House of Lords having passed through two readings in the Commons and the committee stage.
Legal advice now will stop further heartache later
Divorce can be a painful process for many people or perhaps a welcomed outcome after a lengthy period of unhappiness. Going through the process will bring forward different emotions and experiences, and no two negotiations between former couples will be the same – even if the basic steps are set in stone. Given the unpredictable nature of a divorce, and the reality of what is at stake – whether that be access to assets and a protection of livelihood, or access to your children – it's important to achieve a fair outcome. Speak to a family lawyer who will work to protect your and your children's best interests so that an unfortunate outcome doesn't have to cause more heartache.
Legal process
From filing for divorce to the courts final order officially ending the marriage, divorce can be a log process.Start a conversation with a solicitor before deciding the best actions to take.
Find out more
Financial arrangements
One of the most difficult aspects of any relationship breakdown is agreeing how to deal with financial matters. Start a conversation with a solicitor before deciding the best actions to take.
Find out more