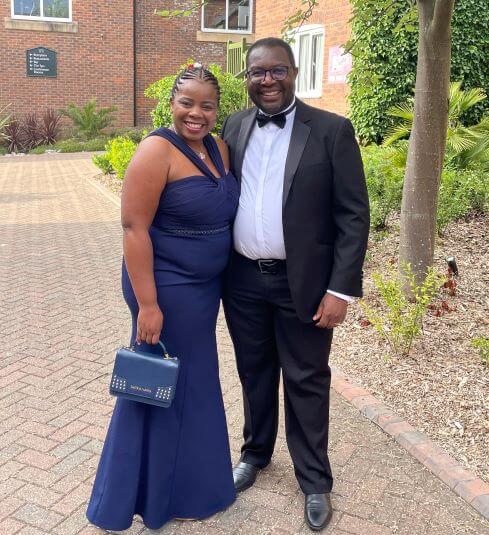 Andrew is originally from Zimbabwe, where he was admitted as a legal practitioner in 2000. In 2002, Andrew came to the UK to join his wife, Nyaradzo. At the time, Andrew was already a lawyer practising in Zimbabwe. However, when he relocated to the UK, despite submitting many applications, he struggled to get a job in the legal sector. To save money to do the Qualified Lawyers transfer tests, Andrew worked as a support worker, warehouse operative and van driver.
Nyaradzo Nyamayaro, Andrew's wife worked for the NHS for 17 years as a general nurse and research nurse, and is currently the Firm's Practice Manager. Their son is a law student at University of Birmingham and their daughter is doing her A Levels and is an aspiring Architect. An interesting fact – Tann Law is an acronym representing the initials of the four family members names, making Tann Law a true family business.
Andrew is the current President of the Warwickshire Law Society and hold various positions in the legal sector and community. He is also a public speaker who has addressed various political and human rights organisations, religious, social and charitable organisations on leading issues of law, politics and contemporary matters.
Being a black immigrant, Andrew faced many challenges and sometimes continues to face challenges due to his background and race. He has experienced the usual racial stereotyping from members of the public, institutional racism and unfortunately even in the profession. Despite such challenges Andrew has worked hard to establish himself and the firm within the local community.
The UK continues to improve when it comes to equality, inclusion and diversity. Andrew can proudly say he has integrated into the British community despite the setbacks he has incurred.
Andrew established Tann Law Solicitors so that he could provide legal advice to all people despite their race, colour, nationality or sexual orientation. Tann Law Solicitors serve all members of the community and offer a free legal clinic every Wednesday. Tann Law Solicitors works in conjunction with Coventry University to facilitate recruitment thereby supporting local employment. We also provide Apprenticeship, student placement and Training Contracts.
We specialise in the following areas of law - employment, immigration, family, civil litigation, Wills, probate, business and corporate advice. Our lawyers are experienced and have excellent client care. Contact us today and to see how we may support you.