Mind the 'Divoid' – your life after divorce
Divorce offers many the chance for a fresh start and a happier outlook on life. So, it's surprising that in a recent study (published January 2014), QualitySolicitors found 89% of those surveyed were worried about their general direction in life after their divorce – something they've termed the 'Divoid'.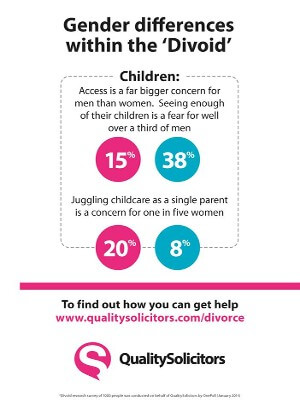 The survey revealed that two thirds of parents have concerns about the impact of their divorce on their children's emotional future, half are worried about their post-divorce living arrangements and one in three fears loneliness.
We all know the prospect of divorce and separation can be a challenging time for you and your family, but with the right approach and support it doesn't have to be difficult. It's all a matter of making the right choices for you and your situation.
So, what can you do to prevent falling into the 'Divoid' trap and look forward to a positive outcome for you and your family? Here are our tips:
Keep things amicable
Consider a collaborative divorce, where you and your partner can come to an agreement that works for everyone involved. As hard as it might be, don't make life difficult for each other, now or after the divorce, all it will achieve is bitterness. Things will always be easier if you can get along.
Consider your new financial future
This is the perfect time to re-asses your finances – make an appointment with a financial advisor to review your current products, policies, pensions and savings. You might have joint arrangements with your ex which may need to be amended or changed for ones more suited to your new life. But whatever you do, don't rashly cancel vital policies (like life or home insurance) and make sure your ex knows how important this is too.
Discover a new you
Get out there and do the things you've always wanted to do. Don't use your divorce as a reason to mope around. Instead meet up with old friends, start exercising, enrol on a course or go on holiday with friends. Not only will you enjoy yourself, but you're likely to make new friends in the process.
Think positive
Your divorce is bound to leave you feeling blue at times, it would be a worry if it didn't, but don't dwell on it. Yes, at times things are going to be difficult, but they will get better and you will get through it. Don't forget, you're not alone – 42% of marriages end in divorce.
Take your time
As tempting as it may be, jumping straight into a new relationship might not be the best thing to do. Rebound relationships rarely work at this fragile time. You might instead want to consider 'transitional' relationships – dating someone that isn't necessarily for the long-term and might not even be or normal type. This can be a good way of helping you move on and give your confidence a real boost.
If you're facing separation, visit QualitySolicitors to find your nearest branch to see how they can help you.