What to look for in a tenancy agreement
So, you are about to fly the nest and rent your first place… or maybe you've been renting for a while now and are looking for a new place? Either way, you'll need to go through the process of signing a tenancy agreement. It may seem like an inconvenient pain, but without a fair tenancy agreement in place, you could end up stuck in a bad situation. To help ensure a smooth rental period before you sign on the dotted line, take a look at some of our tenancy tips.
Read the small print
Yes, we know there tends to be a number of pages. Yes, they will take longer to read properly. Yes, those clauses and conditions are there for a reason and we cannot emphasise enough the importance of you reading and understanding them. We're not saying you need to bust out the magnifying glass to go over the fine print, but we do recommend taking the time to look out for any conditions that may be particular to the property, landlord or area.
There may be clauses that stipulate what items you can or can't have, what the pet policy is, or if you need to do anything to maintain the place as part of your tenancy, such as gardening or ensuring adequate ventilation. As a legally binding contract, breaking the terms set out in the small print can potentially lead to eviction (regardless of whether you were aware of them or not).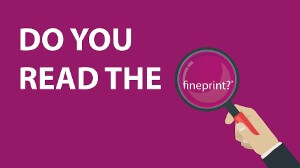 Types of contracts
There are different types of tenancy agreements; we'll briefly touch on three examples.
Assured Shorthold Tenancy (AST)
One of the most common types of tenancy agreement is an Assured Shorthold Tenancy (AST). This type of agreement is for those renting from a private landlord who does not live in the same property as you; you have control over your home and those who visit it. AST's have a fixed term described in the agreement that is usually six or twelve months, but can be longer depending on the landlord's preferences.
Having this type of lease allows the landlord to regain control of the property at the end of the lease, and likewise you as the tenant would have no more obligations at the end of the agreed period; once the fixed term ends, either the landlord or tenant can decide to end the agreement. Ending a tenancy before the specified period in an AST is only possible if both parties agree to terminate the contract, if the tenant breaks the agreement terms, or if there is a special clause allowing for an early termination.
Assured Tenancy
An assured tenancy is more secure for tenants as it allows you to stay in the same property with no imminent end (so long as you continue to pay rent and stick to the terms of the agreement). With assured tenancies, landlords are responsible for repairing any structural or external issues with the property, as well as making sure all facilities work and are safe. Assured tenancies can be passed to another person in certain situations, such as if the person listed on the tenancy agreement passes away; the tenancy can be inherited by someone through a Will.
You are likely to be in an assured tenancy if you moved into your home between 15 January 1989 and 27 February 1997 and you are living in the building without your landlord. Outside of these dates, you would be an assured tenant if your landlord gave written notice expressing your assured tenancy prior to your moving in, or if you had previously had an assured tenancy arrangement with the same landlord in the same building. These types of tenancies afford long-term rights and are much rarer than other types of leases. Given the length of an assured tenancy can stretch years, the landlord does have the right to ask for a rent increase – though you are also within your rights to challenge this.
Joint Tenancy Agreements
For those renting together with one signed agreement, you will likely have a joint tenancy. In this type of arrangement, all those listed on the agreement are fully responsible for the payment of rent and for meeting any stipulated conditions. It's good to be aware, though, that if one person on the tenancy agreement was to move out then the responsibility would fall to the other listed persons to continue to meet the agreement conditions – including making up for any 'missing' rental payment.
Key terms and conditions to check
If you look at the different types of tenancies above you will notice that in each one there is an eviction risk if you break any of the terms and conditions, so it certainly pays to read with extra care. It also helps to know what specific things to look out for.
Firstly, check to see if the agreement includes all the relevant information, including what the rent covers and terms on whether you can leave before the tenancy ends, and if so how much notice you need to give. This is called a break-clause and usually applies after six months of a tenancy. If there isn't one, it might be worth requesting for the extra condition to be added for extra flexibility for yourself.
Also have a look for rules on whether pets or smoking is allowed. These types of conditions will vary property to property. The default option is that neither are allowed. If this is going to be an issue, it's best to be aware before you sign.
Other things to check include whether there are any fines for late rental payments and if there is a line on rent increase upon renewal of the tenancy. All of this means you won't have any nasty surprises after you've settled in.
Keep an eye out too for terms related to repairs. Usually the landlord is responsible for most repairs, such as gas supply lines, but in some cases the responsibility lies with the tenant. For example, if you have a garden as part of your property, the landlord might include in the agreement that you must ensure it is kept in a certain state. To help you meet these obligations, some landlords may supply gardening equipment – if this is the case be sure to record this on the inventory, discussed below.
Finally, check the required deposit amount and how it will be protected. In England and Wales, landlords legally have to place tenants' deposits in one of three government-approved deposit protection schemes. These are:
Deposit Protection Service
My Deposits
Tenancy Deposit Scheme
It is illegal for them to not do this, however its best to double-check deposit conditions appear in the agreement for added peace of mind.
Keep an accurate inventory
Before moving in, the landlord will run an independent 'check-in' inventory of the property. If they don't, demand one. An inventory is very important as it can prevent disputes between landlords and tenants during regular property inspections or at the end of the tenancy period. An inventory is a document that records the contents and conditions of each room in the property. This is something that needs to be signed alongside a tenancy agreement, which shows you acknowledge the condition prior to your tenancy.
This same document will be used for a comparison at the end of your tenancy, so if you disagree with the condition report, be sure to raise it. There may be cases where there is a viewed degradation of the property beyond normal wear and tear, which you'll be held responsible for; your landlord may request to keep some of your deposit for repair costs. It may sound like an inventory works in the landlord's favour, however it is important for tenants. It can help safeguard a deposit as the tenant also has evidence if they want to dispute a landlord's decision to keep some or all of the money.
Agency fees
Even though you know how much your property is going to cost to rent, there are a number of fees that you will be asked to pay before you move in. These include a holding deposit, an admin fee, and reference and credit checks. Once you are actually in the property there could be fees for tenancy renewals, amendments to contracts, unpaid rent, and early terminations. Add to that a check-out fee and any possible deposit deductions, and things soon add up!
One proposed change that may be very welcome news for tenants is the government's draft Tenant Fees Bill 2017. If passed within the next year as expected, this will mean landlords and letting agents won't be able to charge any fees other than the rent, refundable security, holding deposits and 'default fees', (i.e. if a tenant breaches a clause in their agreement – another reason to read that small print!). More information on the proposed new law can be viewed here.
Help's here if you need it
Moving or finding property is hard enough as it is, without the added worry of tenancy agreements. Be sure to follow our tips and make sure you firstly read the agreement, secondly understand the agreement, and thirdly actually agree with all of the conditions – never sign a contract that you're not happy with.
Still worried you might be treated unfairly? We have an experienced network of property solicitors who can check over your tenancy agreement with a trained and professional eye. We'll decipher lengthy documents and conditions into plain and simple language so that you can move in without a hitch.
Contact our property solicitors today on 0808 163 3045.